Enter now
Second-round entries are now open for the 2023 Walkley Book Award
The Walkley Foundation has tightened the criteria for the 2023 Walkley Book Award. Please read our media release here.
The Walkley Book Award honours longform journalistic endeavours that have been published in book form in Australia. It acknowledges writers who have used journalistic skills and processes to craft a compelling and readable narrative for a general readership. Skill in storytelling, newsbreaking, newsworthiness, deep research, analysis, public impact, structure, readability and creative use of the book medium will be among the qualities assessed. The focus is primarily on books of journalism, not literary works.
Books must be entirely works of non-fiction and can be based on an Australian or international topic. Entries can encompass longform journalistic approaches to a range of subjects. Examples of these may include newsworthy issues or historic events, true crime, biographies, political analysis, business writing, war reporting, sports reporting, investigative journalism and books by foreign correspondents.
Memoirs will only qualify if they include significant additional journalistic research and offer a balanced approach to the topic. A memoir told in the first person, solely from the perspective of the author is not eligible for this award.
In the case of authorised biographies, the entrant must detail any approval process and indicate how their book adhered to journalistic practice and ethics to ensure balance and accuracy in preparing a work of public interest. Ghostwritten books are not eligible. Works of lifewriting as well as books on lifestyle, information and self-help, along with academic and educational books will not be considered. Anthologies with multiple writers will not be considered and books will not be eligible if more than 20 per cent of the book has previously been published in book form.
Writers who are not working journalists may apply provided they can demonstrate they have adhered to the MEAA Journalist Code of Ethics in the preparation of their work. A book will not be eligible simply because its author is a journalist. Self-published books will be considered provided they meet all criteria.
The judging criteria used for assessing entries into the Walkley Book Award include:
Journalistic merit
How the book was initiated (with particular credit given for originality)
Timeliness, including exclusivity
Newsbreaking and newsworthiness
Structure and readability
The power of the narrative
Creative use of the book medium
Deep research, investigation and analysis
Balance, accuracy and ethics
Consideration of the resources available
Public impact or benefit
Each entry into the Walkley Awards is judged on how well it meets the: 
category description; and
judging criteria.
Terms and Conditions:
All entrants must be either:
Australian citizens, permanent residents of Australia, or people residing in Australia with an appropriate work visa and an Australian publication deal; or
Australian citizens working abroad whose work is available to an Australian audience.
All entries must have been published in Australia in the 12 months from September 1, 2022 to August 31, 2023.
There are two submission rounds for the Walkley Book Award:
Round 1 is open Monday, 29 May 2023 to Friday, 30 June 2023. If your book is already published, it is highly recommended you submit it in Round 1.
Round 2 is open Saturday, 1 July 2023 to Thursday, 31 August 2023.
In the case of authorised biographies, the entrant must detail in their Entry Statement any approval process and indicate how their book adhered to journalistic practice and ethics.
In the case of audio or electronic originals, the judges must be provided with a .PDF or printed copy of a final press-ready manuscript.
Entrants must declare in their Entry Statement if and how AI was used in the preparation of the narrative and detail how it assisted the journalistic process.
Six hard copies of the book must be posted the Walkley Foundation once this online entry form is complete (audio and electronic originals excepted). Please address them to:
The Walkley Book Award, First Floor, 245 Chalmers St, Redfern, NSW 2016
If you have any questions please contact Estelle Fu, Estelle.fu@walkleys.com, +61 452 560 226
Congratulations to Bronwyn Adcock, winner of the 2022 Walkley Book Award
Currowan, Black Inc. Books
The Currowan fire – ignited by a lightning strike in a remote forest and growing to engulf the New South Wales South Coast –
was one of the most terrifying episodes of Australia's Black Summer. It burnt for seventy-four days, consuming nearly 5000
square kilometres of land, destroying well over 500 homes and leaving many people shattered.
Bronwyn Adcock fled the inferno with her children. Her husband, fighting at the front, rang with a plea for help before his
phone went dead, leaving her to fear- will he make it out alive?
In Currowan, Bronwyn tells her story and those of many others – what they saw, thought and felt as they battled a blaze of
never-before-seen intensity. In the aftermath, there were questions- why were resources so few that many faced the flames
alone? Why was there back-burning on a day of extreme fire danger? Why weren't we better prepared?
Currowan is a portrait of tragedy, survival and the power of community. Set against the backdrop of a nation in the grip of an
intensifying crisis, this immersive account of a region facing disaster is a powerful glimpse into a new, more dangerous world –
and how we build resilience.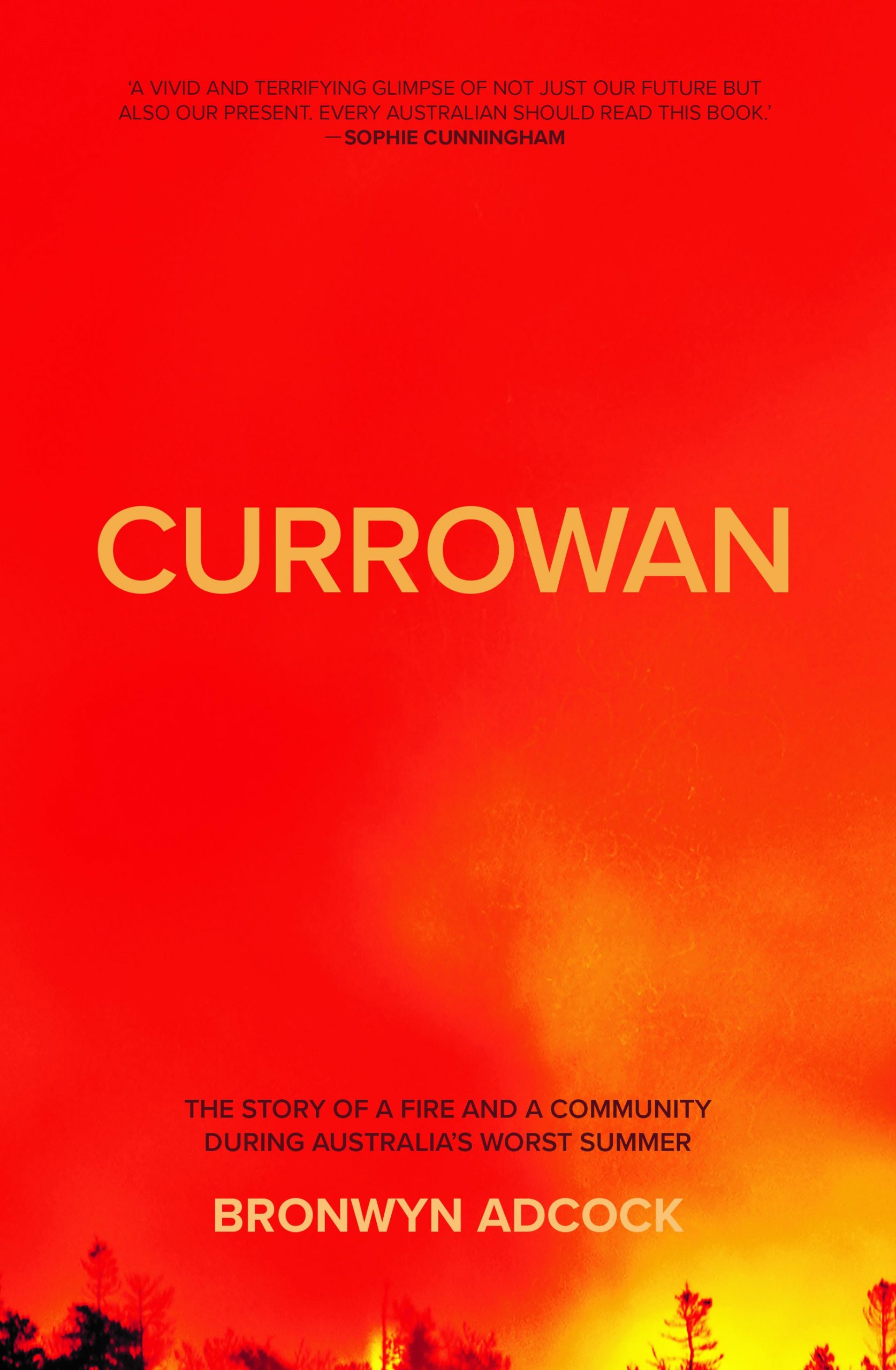 The 2022 winner joins the ranks of some of the most celebrated non-fiction writers in Australia: Lucie Morris-Marr (Fallen), Leigh Sales (Any Ordinary Day), Helen Pitt (The House), Louise Milligan (Cardinal), Stan Grant (Talking To My Country), Chip Le Grand (The Straight Dope), Paul Kelly (Triumph and Demise), Pamela Williams (Killing Fairfax), George Megalogenis (The Australian Moment), Russell Skelton(King Brown Country), Shirley Shackleton (The Circle of Silence), Graham Freudenberg(Churchill and Australia), Don Watson (American Journeys), Chris Masters (Jonestown), Neil Chenoweth (Packer's Lunch) and Bob Connolly (Making Black Harvest). Entries can encompass subject matter including true crime and biographies, political analysis, business writing, war reporting, investigative journalism and foreign correspondence.
Judging is a two-tier process comprising senior representatives from the media and publishing community. Judges will determine a long list and shortlist of nominees before winners are announced at the 68th Walkley Awards in November 2023.