Sean Dorney Grant for Pacific Journalism
Congratulations to the 2023 Sean Dorney Grant for Pacific Journalism winners: Stefan Armbruster and Marian Faa
This year the Grant was expanded allowing for a second recipient, with each journalist receiving $10,000 to support their coverage of the region, thanks to generous donations from private supporters.
Stefan Armbruster is the Brisbane-based correspondent for SBS World News and has reported on the Pacific for almost 30 years – regularly travelling in the region. He began as a broadcaster at community radio 4ZZZ in Brisbane, and worked overseas at the Fiji Broadcasting Corp, BBC, Dow Jones, CNBC, and the ABC in Australia. His reportage on Aboriginal & Torres Strait Islander, Pacific, environment and multicultural issues has been recognised with numerous awards. 
Marian Faa is a multi-platform reporter within the ABC's Asia Pacific Newsroom. Born in Papua New Guinea, Marian's stories are focused on the Pacific. She has covered politics, natural disasters, climate change, health, development and issues relating to women's rights in the Pacific. In 2020 she was named Queensland's new journalist of the year for her investigative reporting.
The 2023 Sean Dorney Grant for Pacific Journalism
In 2023, the Sean Dorney Grant for Pacific Journalism was expanded to allow for the provision of a second $10,000 grant.
The grants program, which honours the work of legendary ABC journalist Sean Dorney, allows up to two Australian journalists to produce significant content in any medium profiling issues in the Pacific region. Journalists from all sectors, backgrounds and experience levels are encouraged to apply with pitches for reportage, features and news stories. The work gives voice to Pacific island perspectives on an under-reported issue or development of importance to Australia and the region. Applicants with three years or less reporting experience can access a mentor to support their project development.
The judges are looking for original journalism with public interest value and impact. This grant aims to provide:
an incentive for more reporting of Pacific issues by the Australian media in all formats.
increased opportunities for Australian journalists who cover the Pacific to develop more detailed stories on the region.
support for Australian journalists and media outlets who want to embark on Pacific journalism for the first time.
greater exposure and publicity for journalism that brings the stories of the Pacific island region to Australian audiences.
Sean Dorney is an undisputed icon of Pacific reporting within the Australian media. In 2018 his illustrious 40-year career as a journalist in Papua New Guinea and throughout the Pacific islands region was recognised with the Walkley Award for Outstanding Contribution to Journalism. Sean's passion for the region, and for the work of the Australian media in telling Pacific stories to Australian audiences, is legendary and unquenchable. Sean is living with Motor Neurone Disease and this grant is one way in which his impact and legacy can be carried forward by and for the industry he loves.
Who can apply?
The judges want journalists from all sectors, backgrounds and experience levels to apply with pitches for reportage, features and news stories. The judges hope to see a broad range of applications from diverse and emerging voices as well as experienced and well-known journalists.

The grant is open to both freelancers and those employed by media organisations. Please note terms and conditions before applying.

Academics, public intellectuals and former journalists working in Pacific-related fields. These applicants must have a strong track record in the media as an independent voice or writer.

Applicants must be an Australian resident or citizen but may live outside Australia, preferably in the Pacific.

Group applications may include up to three names, with one person nominated as the primary contact.
Applicants should:
Give a brief outline of their project

Show they have a realistic understanding of the budget for their project and provide details with their application

Show they have in principle support of a publisher or broadcaster to publish the work they produce as a result of this grant

Submit up to three examples of their work to support their application
Mentorship option
A mentor with significant experience of reporting in the region can be available to provide guidance to the successful award recipient on a quarterly basis throughout the term of the project. If you're an applicant with three years' journalism experience or less, and this is of interest, please include how you would hope to work with a mentor in your application.
Webinar: Pacific Journalism
To help prepare for your application, you can watch a recording of our webinar featuring past grant-winners and Sean Dorney himself.
Applications open in March, 2024.
For questions on the grants program, please contact Julie Johnson, julie.johnson@walkleys.com | +61 419 644 273
If you believe supporting more and better reporting of Pacific issues is important, consider making a donation to the Sean Dorney Grant for Pacific Journalism today. Donate online and add 'Sean Dorney Grant' in the comment box.
Show your support
The Walkley Public Fund for Journalism
These grants are funded by the Walkley Foundation's Public Fund. The industry needs more from us, and to provide that kind of support, we need help to grow the Walkley Public Fund. The Fund is an opportunity for individuals and organisations to come together and show their support for journalism and the vital role that it plays in supporting democracy, with a tax-deductible donation.
You can find out more about the fund, what we support, and how to donate here.
2022 Sean Dorney Grant for Pacific Journalism winner: Lucy Murray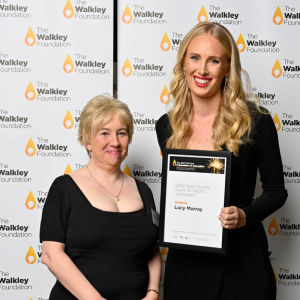 Lucy Murray is a cross platform reporter and video journalist with SBS World News covering stories from Australia and aboard. She has reported on the China-Pacific Island Countries Foreign Ministers' Meeting in Fiji, sat down with the Solomon Islands High Commissioner to Australia for an exclusive interview and was nominated for an 2021 Amnesty International Media Award. (Lucy Murray, right, at the 2022 presentation with grant supporter Dr Tess Newton Cain)
Funded by the 2022 Sean Dorney Grant, Lucy investigated the impacts of deep-sea mining in the Cook Islands and the effects it could have on the Pacific's fragile ecosystem.
2021 Sean Dorney Grant for Pacific Journalism winner: Natalie Whiting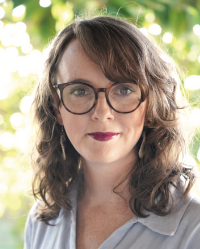 Natalie Whiting is the ABC's Papua New Guinea Correspondent. For almost three years Whiting has been at the forefront of coverage of PNG, including the 2019 political upheaval and election of Prime Minister James Marape, the Bougainville independence referendum, the visit of Chinese President Xi Jinping and the hosting of APEC, the death of Sir Michael Somare, and the COVID-19 pandemic.
Whiting is a video journalist and cross-platform reporter who has previously worked for ABC News, radio current affairs and 7.30. Before moving to Port Moresby, she filed for the ABC from across Australia, with a particular focus on stories from outback and regional areas. She started her career with the ABC in Broken Hill and was later based in Orange, Sydney, Adelaide and Hobart. Natalie Whiting has received numerous awards for her reporting, including the ABC's prestigious Andrew Olle Scholarship.
2020 Sean Dorney Grant for Pacific Journalism winners: Jo Chandler and Nic Maclellan
2019 Sean Dorney Grant for Pacific Journalism winner: Ben Bohane
Australian photojournalist, author and TV producer Ben Bohane was announced as the winner of the inaugural Sean Dorney Grant for Pacific Journalism at the 2019 Walkley Mid-Year Celebration. Read more about the announcement here. 
With the support of this grant Ben was able to produce a number of stories covering Bougainville's referendum for independence for The Sydney Morning Herald and The Age. Follow the links below to read the stories featured throughout November and December in these publications.
From the ocean to the east, it looks like Australia's Pacific policy is all at sea: The Sydney Morning Herald, December 20, 2019
Bougainville: the journey to the 2019 independence vote in pictures: The Sydney Morning Herald, December 15, 2019
Bougainville votes overwhelmingly for independence from PNG: The Sydney Morning Herald, December 11, 2019

From 'treasure island' to world's newest nation? What is happening in Bougainville?

: The Sydney Morning Herald, November 29, 2019

Australian love story at the heart of Bougainville's push for independence

: The Sydney Morning Herald, November 23, 2019

'Where is Australia?' China makes a bold play for the south Pacific's 'Treasure Islands'

: The Sydney Morning Herald, November 17, 2019

Can Bougainville rebuild on the broken corporate dreams of the colonial age?

: The Sydney Morning Herald, November 16, 2019

This derelict mine caused a bloody war. Now Aussie companies are fighting over it again

: The Sydney Morning Herald, November 15, 2019
Sign up for our newsletter for updates on the Sean Dorney Grant for Pacific Journalism.