Online Media Training: Interpreting polls
5 April 2022 @ 4:00 pm

-

5:00 pm

AEST

Free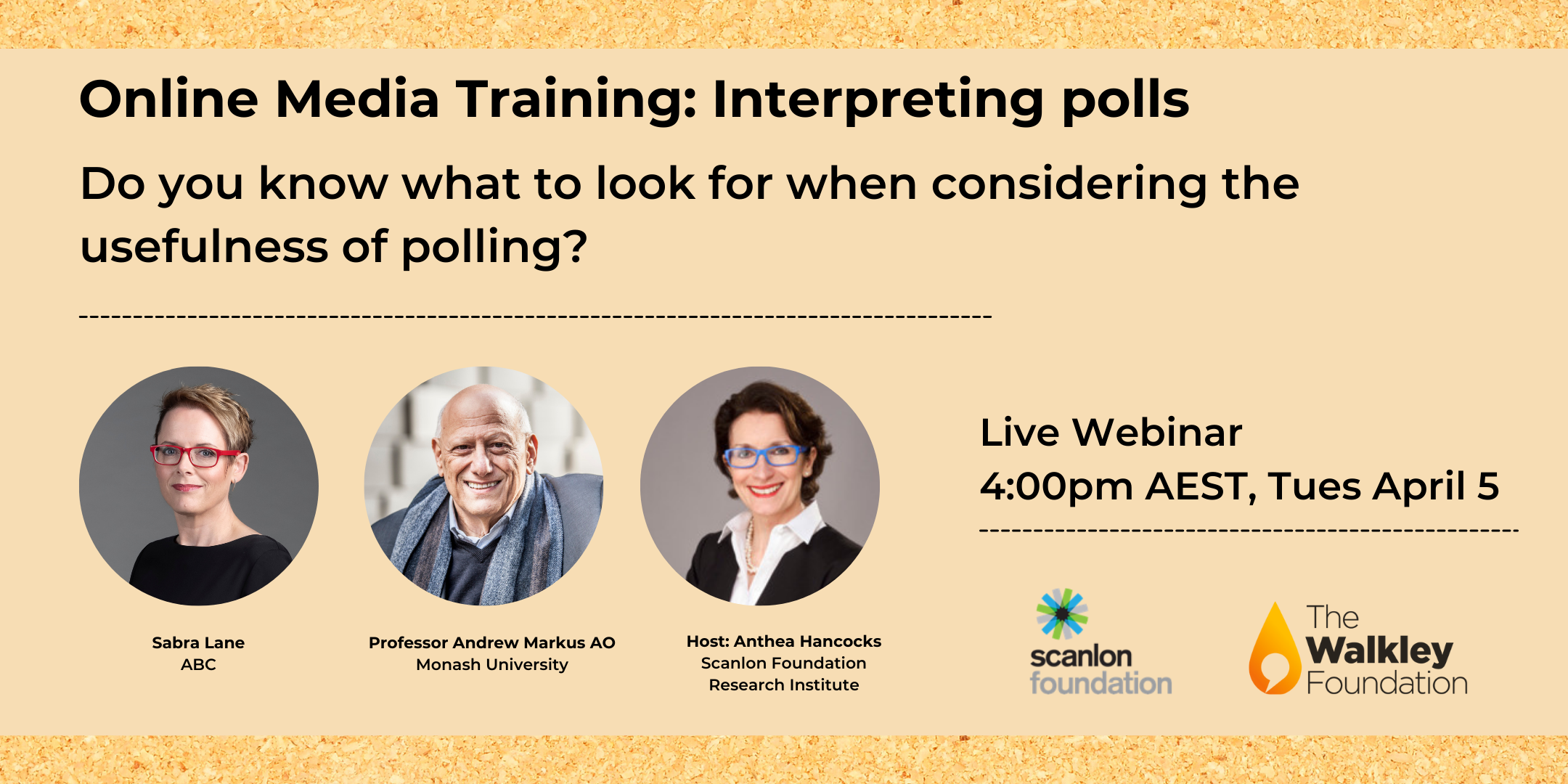 Online Media Training: Interpreting polls
Do you know what to look for when considering the usefulness of polling?
What do the numbers tell us, and what do they miss? Are they a useful tool in revealing the public's priorities and values, or can they be misleading, even distorting the true picture of opinion?
In this webinar, Emeritus Professor Andrew Markus AO, an expert in survey methodology and interpretation will share how journalists can assess the quality of polls and improve their understanding of community perception. ABC's Sabra Lane joins him to share how polls have improved over time and provided insights both before and after elections.
Date: Tuesday, April 5, 2022
Time: 4:00pm – 5:00pm
This event is FREE however spots are limited and registration is essential to secure your place.

The Walkley Foundation provides scholarships, fellowships, mentorships and training to support and encourage journalists of all backgrounds. If you would like to join us in supporting quality journalism and an equitable and inclusive media, please consider adding a donation to your event registration, or donating directly here.
Speakers:
Sabra Lane hosts the ABC's AM program from Hobart and curates The Bright Side. For 13 years Sabra covered federal politics in Canberra for ABC's radio current affairs division and for a time was the Chief Political Correspondent on the nightly TV current affairs flagship 7.30 program. She's been a journalist for more than 30 years, working in commercial TV as well and began her career in Adelaide as a reporter/producer for the Ten Network.
Andrew Markus is Emeritus Professor in Monash University's School of International, Historical and Philosophical Studies. Since 2004 he has been a Fellow of the Academy of the Social Sciences in Australia. His research specialisation is in the field of racial and ethnic relations, ethnic communities, and immigration policy.
Professor Markus has extensive experience researching Australian public opinion. In 1988 he was commissioned to prepare a report on 'How Australians see each other' for the Fitzgerald Committee which advised the Hawke government on immigration policy. His first survey of Australian attitudes towards immigrants was conducted in south-east Melbourne in the 1990s. He has led two national surveys on attitudes within the Jewish community; the first, which included some 200 questions, was conducted in 2007-08 and was completed by 4,100 respondents, the second in 2017 was completed by 8,600.
In an Australian first, Professor Markus is tracking changes in Australian attitudes in the Scanlon Foundation national social cohesion survey, which was first conducted in 2007. In addition to the annual Scanlon Foundation surveys, research has explored attitudes within segments of the community, including neighbourhoods and regions, third-generation Australians, and recent immigrant arrivals. The Australia@2015 project included a survey conducted in 20 languages, completed by more than 10,000 respondents, and more than fifty focus groups conducted in four states.
Surveys have also been undertaken for federal and state government departments. His commissioned report for the Victorian Research Institute on Social Cohesion on protests in Bendigo to the proposed building of a mosque, 'Division in Bendigo: Mainstream public opinion and responses to public protest in Bendigo, 2014-2016', was completed in 2018.
In 2019 Professor Markus with Associate Professor Dharmalingam Arunachalam and Dr Helen Forbes-Mewett was the recipient of an ARC Discovery Grant to deepen understanding of cross-cultural and cross-religious marriages and partnerships in Australia.
Anthea Hancocks is the CEO of the Scanlon Foundation and CEO of the Scanlon Foundation Research Institute. The Scanlon Foundation is a private philanthropic organisation dedicated to social cohesion and the transition of migrants into Australian society.