MEAA Code of Ethics webinar #5
26 August 2021 @ 5:30 pm

-

6:30 pm

AEST

$10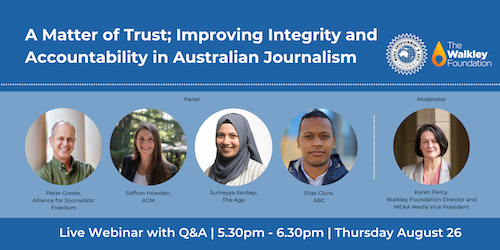 MEAA and The Walkley Foundation present – A Matter of Trust; Improving Integrity and Accountability in Australian Journalism
This is the fifth and final session in a series of webinars exploring MEAA's Journalist Code of Ethics.
Trust has become a very fragile connection between journalists and their audiences. In the age of misinformation and disinformation, and crumbling media business models, the public has become disillusioned and is demanding greater accountability. MEAA's Code of Ethics has been around for almost 80 years, written in a very different era to today's 24/7, online environment. It remains the best guide journalists have to ensure they carry out their work with integrity and honesty.
Panellists will explore the strengths and weaknesses of how we do things right now, what we could be doing better, how we can put the 'public' back into 'public interest', how regional and rural communities can be better served, how greater diversity of journalists will benefit journalism and more.
Panel:
Peter Greste | University of Queensland | Alliance for Journalists' Freedom
Saffron Howden | National Editorial Trainer | Australian Community Media
Sumeyya Ilanbey | State Political Reporter | The Age
Elias Clure | 7.30 | ABC
Moderator:
Karen Percy | Walkley Foundation Director | MEAA Media Vice President
Date: Thursday 26 August
Time: 5:30pm – 6:30pm AEST
Cost: $10 plus booking. All revenue will be donated to the Media Safety & Solidarity Fund.
A MEAA initiative established in 2005, the Media Safety & Solidarity Fund is supported by donations from Australian journalists and media personnel to assist colleagues in the Asia-Pacific region through times of emergency, war and hardship.
For any questions regarding the event please contact Walkley Foundation Events Manager Marcus Raue at marcus.raue@walkleys.com
Speakers: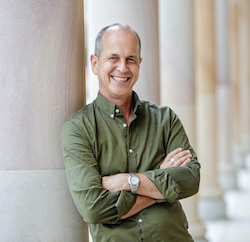 Professor Peter Greste is an Australian-born journalist, author, media freedom activist and academic. He is a founding member of the advocacy group, the Alliance for Journalists Freedom, and the UNESCO Chair in Journalism nd Communication at the University of Queensland. He is also a regular contributor to the Australian Broadcasting Corporation, The Australian, The Sydney Morning Herald, The Conversation, and The Guardian.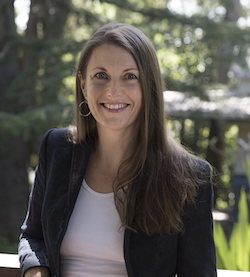 Saffron Howden is a journalist, author and media literacy advocate. She founded and edited the national newspaper for young people, Crinkling News, and this year co-authored a book teaching children journalism and media literacy skills called Kid Reporter: The Secret to Breaking News. Saffron was Google News Initiative's first Teaching Fellow for Australia and New Zealand, training hundreds of rural and regional journalists in digital news-gathering and story-telling techniques across Australia. She did her cadetship at Australian Associated Press (AAP) and, over nearly 20 years, has worked in suburban, regional and metropolitan newsrooms, including The Sydney Morning Herald and The Daily Telegraph. Saffron is currently the national editorial trainer for Australian Community Media, responsible for training across dozens of regional newsrooms.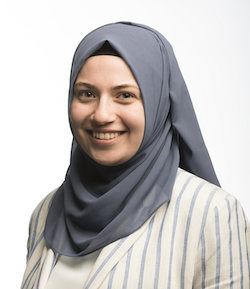 Sumeyya Ilanbey is a state political reporter at The Age.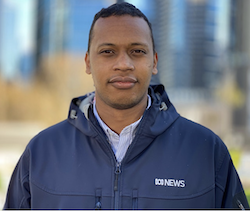 Elias Clure is a journalist for 7.30 in Sydney and the ABC's 2021 Andrew Olle Scholar. Previously he was a reporter in the ABC's Melbourne and Darwin newsrooms. Elias is of African American ancestry and grew up and went to school in Melbourne's western suburbs.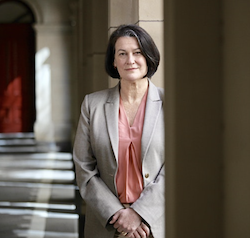 Karen Percy's career began with the ABC in Adelaide more than three decades ago, and has also taken her to Alice Springs, Darwin, Sydney, Bangkok and Moscow. She has also worked for Channel 10 and the Canadian Broadcasting Corporation. From 2006-2009 she was the ABC's Southeast Asia correspondent, based in Bangkok. In 2010 she went to Moscow and freelanced for a number of agencies including CBC, SBS, Radio France International, Deutsche Welle, Orf in Austria and Radio New Zealand. Karen is a co-Vice President of the Media section of MEAA and she's been active with Women In Media Victoria, which offers workplace support and networking opportunities. She is a Director of the Walkley Foundation and Chair of the Dart Centre Asia-Pacific which focuses on trauma and journalism.