2019 Australia-Korea Media Exchange Program
Congratulations to the four journalists selected to travel to Korea later this month for the Australia-Korea Media Exchange. The quality of applicants was outstanding this year, but the delegation heading to Seoul and beyond will be:
Farz Edraki, features writer and producer for the ABC

Erin Handley, digital journalist at the ABC's Asia Pacific Newsroom. 

Andrew Hobbs, editor of

Farms & Farm Machinery Magazine

Josh Taylor, a Guardian Australia reporter based in Melbourne
2018 Australia-Korea Media Exchange
Seoul, October 2018
Four Australian journalists travelled to South Korea last October for the Australia-Korea Journalism Exchange. They met diplomats, business people, scientists, educators, journalists and others; and they also toured the DMZ and attended the Korea Press Foundation Journalism Conference 2018 in Seoul, from this October 23–30, 2018.
The 2018 delegates were:
Elysse Morgan, host, The Business, ABC
Eryk Bagshaw, federal political reporter, Sydney Morning Herald
Phoebe Bowden, journalist (Press Gallery), Ten News
Andrew Burrell, WA chief reporter, The Australian
Read a story from the delegation about their exchange experience here.
South Korea is one of the most fascinating countries in our region, and it's of key interest for Australians as our fourth-biggest export market. It's got a massive engine of an economy built on the big chaebols — think Samsung, shipbuilding, energy — a famously intense educational system, and the rapid international rise of K-Pop and modern Korean culture. And all that's happening with the existential threat of an increasingly bellicose North Korea just across the border.
The program, a joint initiative of The Walkley Foundation, the Australia Korea Foundation and the Korea Press Foundation, works to build relationships between our countries through experiences and education for reporters.
With the Australia Korea Foundation (AKF) and Korea Press Foundation (KPF), the Walkley Foundation offers an opportunity for four Australian journalists to travel to Korea for a week long visit.
The Korea Press Foundation designs an itinerary of tours, meetings and interviews to help the visiting journalists develop a clear picture of some of the big stories coming out of Korea, and build awareness and relationships between our countries. (The Walkley Foundation does the same for a group of visiting Korean journalists, usually in April.)
This is a brilliant opportunity for driven Australian journalists to enjoy unique access to some of Korea's key organisations and personalities, and build a wealth of contacts and story ideas. Successful applicants have their airfares, accommodation and transfers covered, and will be uniquely placed to learn about Korean culture and bring Korean stories to Australia.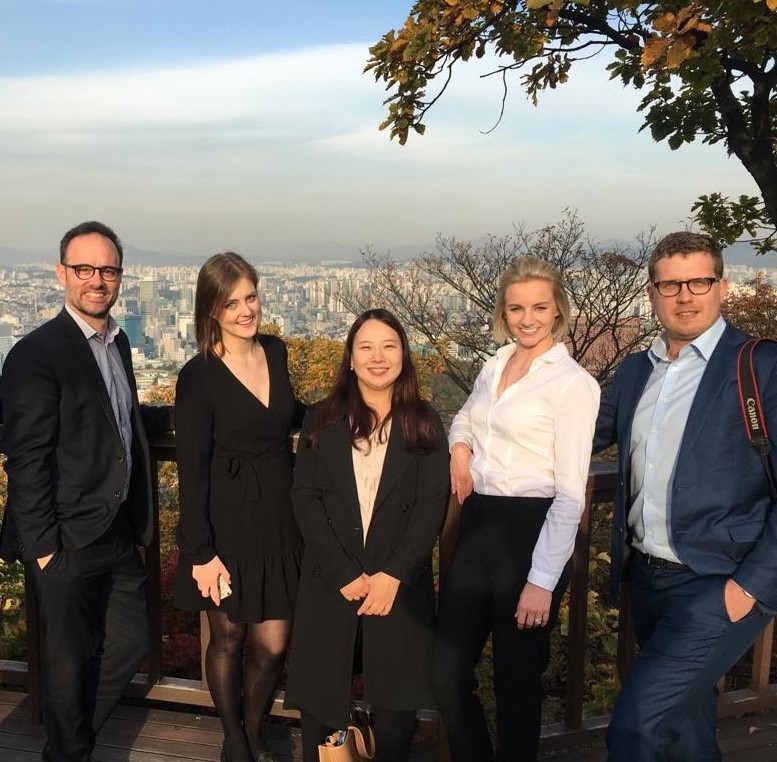 Notes from past exchanges
Past exchange participants:
2013
Alex Lee, ABC
Jason Whittaker, Crikey
Michael Janda, ABC
2014
Andrew Tillett, The West Australian
Lucy McNally, ABC
Patrick Witton, The Big Issue
Peter Ryan, ABC
2015
Clint Jasper, ABC South Australia
Kelsey Munro, Sydney Morning Herald
Natalie Whiting, ABC Radio
2016
Angela Macdonald Smith, The Australian Financial Review
Myles Morgan, SBS
Phoebe Wearne, The West Australian
2017
Ariel Bogle, The Conversation
Andrew Greene, ABC
Su-Lin Tan, The Australian Financial Review
2018
Elysse Morgan, host, The Business, ABC
Eryk Bagshaw, federal political reporter, Sydney Morning Herald
Phoebe Bowden, journalist (Press Gallery), Ten News
Andrew Burrell, WA chief reporter, The Australian
Australia to Korea – 2016
Three Australian journalists, Myles Morgan (SBS), Phoebe Wearne (The West Australian), and Angela MacDonald-Smith (The Australian Financial Review), travelled to Korea in September 2016. In addition to the exchange's usual broad introduction to the country, meetings on this trip were also tailored for the reporters' particular interests — education, energy and national security. Get a taste of their experience whether on the official tour or off the beaten track by checking out our Instagram Postcards from Korea. And learn more about the program in this DFAT piece: Nurturing Australian-Korean journalism networks.
Australia to Korea – 2015
In September 2015 three Australian journalists visited Seoul, Busan and Jeju Island. Read our write-up of the trip here.
Korea to Australia – 2015
In April-May 2015, we hosted four Korean journalists and a liaison officer from the KPF in Sydney, and Canberra. With the Korea-Australia Free Trade Agreement newly signed, the Korean journalists were particularly keen to learn more about the trade relationship between Australia and Korea. The Walkley Foundation organised a full week of meetings to help the Korean journalists meet with experts, make new contacts, and gain a more nuanced understanding of Australian policy, business and culture.
Australia to Korea – 2014
In October 2014, four Australian journalists traveled to Korea for a week as part of the exchange. Australian journalists Andrew Tillett, (federal political reporter for The West Australian), Lucy McNally, (bi-media reporter for ABC News), Patrick Witton, (contributing editor of The Big Issue Australia) and liaison officer Peter Ryan (ABC Business Editor, ABC News).Hosted by the Korea Press Foundation they undertook a range of meetings, interviews and site visits to give them a stronger understanding of Korean politics, business and culture.
Lucy McNally said: "The journalists exchange program run by the Walkley Foundation and the Korean press foundation is a fantastic opportunity to learn more about Korea and the various relationships australia has with this rapidly growing nation. The week was jam packed with informative briefings from government diplomats to business executives, while still featuring a range of great practical activities that showcased Korea's tourist attractions such as a glorious hike on Jeju island. A real stand-out moment was an off the record meeting we had with a senior member of South Korea's foreign ministry, who spoke candidly about how impossible it is to predict the next move from North Korea, the incredible frustrations of dealing with the regime and the challenges of changing the apparently apathetic attitude of South Korea's younger generation to the concept of a United Korea. That meeting encapsulated everything the trip was about – an opportunity for a rare insight into the complex dynamics of a country still grappling with its identity and place in the modern world. The fellowship reinvigorated me as a journalist; I will return to my job with a renewed sense of the importance of thinking critically about each issue I come across in my work. I highly recommend this program to any journalist with a keen interest in expanding their world view and thinking outside the square of daily news in Australia."
Australia to Korea – 2013
In October 2013, three Australian journalists travelled to Korea for a week as part of the exchange. Australian journalists Jason Whittaker (editor, Crikey.com.au), Alexandra Lee (producer, ABC News 24) and Michael Janda (business reporter, ABC News & Current Affairs) met government, business, media and cultural experts, visited Seoul, Busan and the Demilitarised Zone and came back with stories and insights to share. Read Michael Janda's dispatch from the trip here.
Jason Whittaker said: "Our study tour of South Korea was brilliant – and not just the food. The program was packed with fascinating people; a great mix of government, business and media. In just a few days I felt like I had a good grasp of the key domestic and international affairs issues within South Korea, and a much better understanding of the mediascape and broader culture. Organisation was seamless. Importantly, along with contributing a number of stories to Crikey, I developed a broad understanding of Korean issues to feed back into my publication and share with my colleagues. I greatly appreciated the opportunity and hope other journalists have the same chance."