The Age and The Sydney Morning Herald
All Media: Business Journalism
These stories lifted the lid on the brutal business model driving Domino's franchisees to cut corners, with workers collectively underpaid millions of dollars. Adele Ferguson and Mario Christodoulou coaxed workers and franchisees to speak about their treatment. After the story broke, Domino's share price halved and it admitted thousands of workers were underpaid, spurring on the government's push for a new Vulnerable Workers Bill. 
To the possible chagrin of the nation's business round, this is Ferguson's fourth Walkley Award for business reporting. Her investigations go behind the spin and expose corporate wrongdoing. Like many of her reports, this one is driven by a whistleblower's revelations; Ferguson is a strong advocate for improving whistleblower protections and giving vulnerable people a voice. 
Ferguson is a multi-award winning senior business writer and columnist for The Age, The Sydney Morning Herald and The Australian Financial Review. She is author of a best-selling unauthorised biography on Gina Rinehart. Ferguson started her career in journalism at The Advertiser. She has also worked at BRW magazine as deputy editor and chief business commentator, leading many major investigations into the corporate sector, and was a senior columnist at The Australian. 
Christodoulou is a journalist with the Sydney Morning Herald's Investigations unit. Previously he has worked for the ABC's Four Corners and Background Briefing programs, examining a range of issues including organised crime, terrorism, money laundering and domestic violence. He won the 2014 Gold Walkley for his work on the Commonwealth Bank financial planning scandal together with Adele Ferguson and Deb Masters. He started his career at The Blacktown Sun, before moving to the Illawarra Mercury where, in 2008, he won a Walkley for his coverage of the Wollongong Council corruption scandal.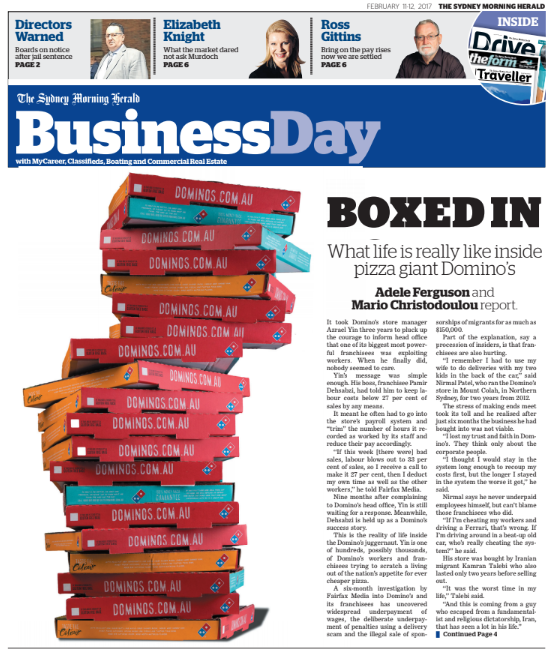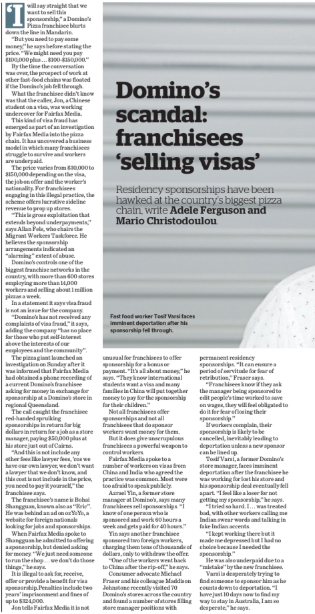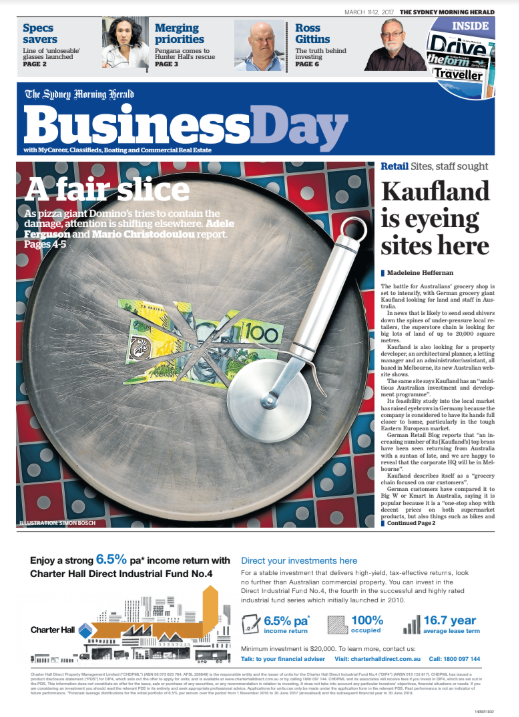 A searing and detailed look into the flawed phenomenon that is Domino's Pizza and its fall from grace. Adele Ferguson and Mario Christodoulou went to great lengths to uncover the rotten truth hidden under the glossy pizza box. From wage fraud to rampant underpayment of workers and selling visas to desperate overseas students for thousands of dollars, this three-part series has it all. In a time when small businesses are at the forefront of Australian enterprise and franchises play an important role in the economy, this investigation and its findings have far-reaching implications for many parts of the community.