Print/Text: Feature Writing Short (Under 4,000 words)
Ben Doherty told the story of Iranian refugee Fazel Chegeni's tragic death on Christmas Island. Through interviews with those who had known him and Chegeni's 700-page immigration file, acquired through a source, Doherty gave Chegeni a voice, detailed how case managers and psychologists begged for senior managers to intervene as his mental health worsened, and exposed the systemic flaws in the government that held him.
Doherty's feature had impact and newsiness, an extraordinary injustice meaningfully presented. As Guardian Australia's Nauru Files coverage showed, there are a lot of these gut-wrenching stories, but it remains vital to tell them. Doherty's solution to a reader's potential compassion fatigue was to learn as much as he could about, and focus on, the human being at the centre of this story.
Ben Doherty is immigration correspondent for Guardian Australia, based in the Sydney newsroom. He was formerly Southeast Asia correspondent for The Guardian, and South Asia correspondent for The Sydney Morning Herald and The Age. He holds a Master of International Law and International Relations from the University of New South Wales, and in 2015 was a Fellow at the Reuters Institute for the Study of Journalism at the University of Oxford. This is Doherty's second Walkley Award; his previous win in 2013 was for an investigation into Bangladeshi sweatshop labour conditions. He was also 2008 Walkley Young Australian Print Journalist of the Year.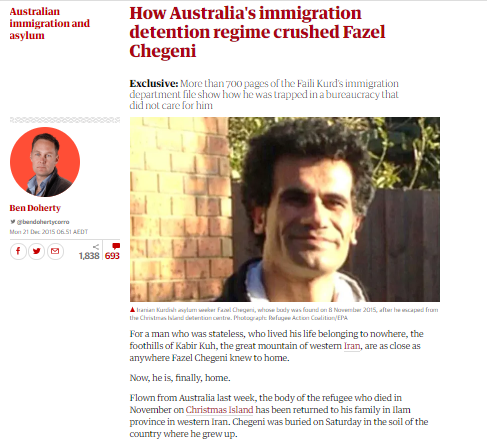 A powerfully researched and written story which distills the labyrinthine workings of a notoriously opaque government department into a single unnecessary and tragic death. Ben Doherty's lucid exposition of Fazel Chegeni's descent into terminal despair is both personal and perceptive as well as precise, forensic and objective — an achievement in itself given such an emotive and polarising topic.