The Daily Telegraph and The Sunday Telegraph
All Media: Sports Journalism
Jamie Pandaram exposed a plan by the Australian Rugby Union to cut the Western Force team from Super Rugby. He broke the story to backlash from Perth rugby fans and denials from the ARU, but Panadaram worked with sources for weeks before the first story, and continued to report it diligently for months. 
Pandaram owned the story, which led to the resignations of several senior ARU staff members, including chief executive Bill Pulver, unprecedented pressure on the board of directors, the irate reaction of the Western Australian government, the efforts of billionaire mining magnate Andrew Forrest to save the team, emotional scenes at games and rallies as players and supporters attempt to cope with uncertainty, and a multimillion dollar legal case that continues today. The ARU will also face a Senate Inquiry into the future of Australian Rugby. 
Pandaram, born in Fiji, learned the perils of journalism early. His father, Alfred Pandaram, was a leading reporter at the Fiji Sun when armed soldiers stormed the newsroom during the 1987 coup, ending the newspaper's coverage of the military takeover.The Pandaram family was forced to move within days to New Zealand, before settling in Australia in 1995. Undeterred, Pandaram cut his teeth at the Canterbury-Bankstown Torch before winning an advanced traineeship at the Sydney Morning Herald in 2006, covering various sports, before joining News Corp in 2011. This is his first Walkley Award.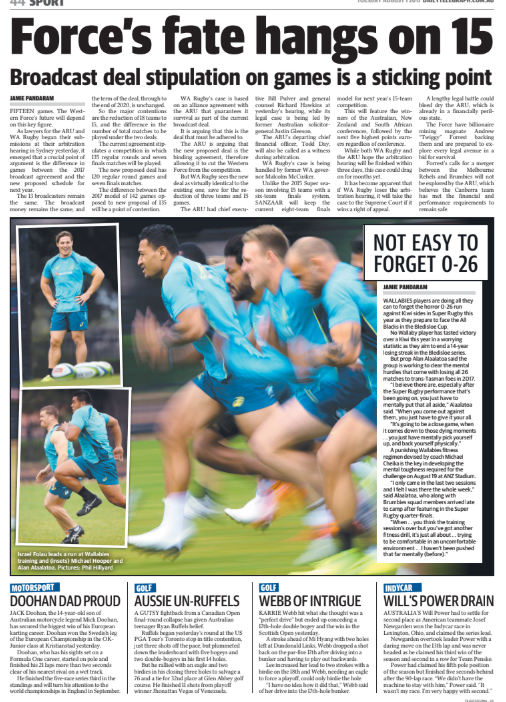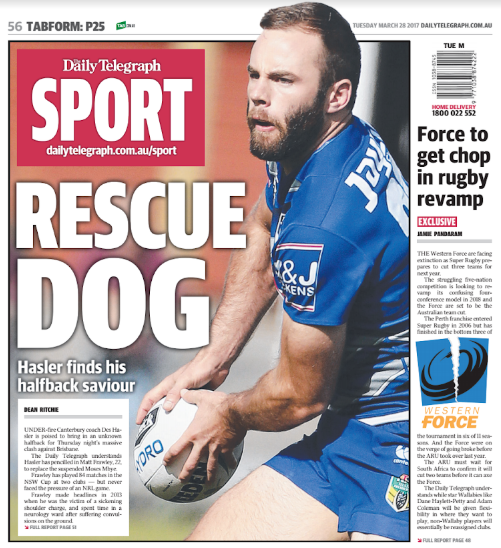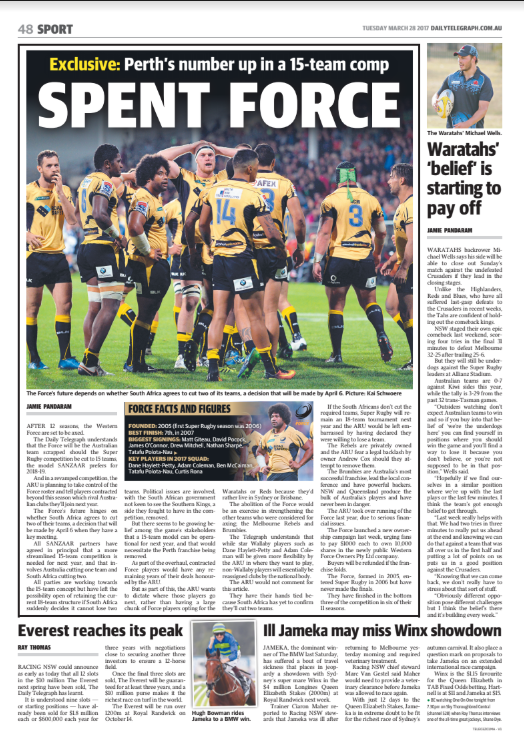 Jamie Pandaram was first with the news that would devastate rugby fans in the west and plunge Australian rugby into fresh crisis. The drums were beating for an Australian Super Rugby team to be cut. After cultivating his sources for months, then pounding them when the moment arrived, he revealed that it would be the Western Force to be culled. He stuck his neck out and made the right call; this was the work of a diligent, hard-nosed reporter wanting the story before anyone else. Thousands protested at the decision, while the ARU must now sit a Senate Inquiry to explain a move that has left dozens of players out of the game.