All Media: International Journalism
Senior government ministers at first denied the claim that Australian officials had paid people smugglers to return a boat of asylum seekers to Indonesia. However, as the Fairfax team's evidence mounted, then PM Tony Abbott's defence that Australia would stop the boats "by hook or by crook" became as notorious as the initial Allegation.
Jewel Topsfield is the Indonesia correspondent for Fairfax Media. She has been with Fairfax for 11 years, including several years as the education editor of The Age, a three-year stint in the Canberra press gallery, and launch deputy editor of Fairfax's online opinion site, the National Times. She has received several media awards, including a Quill.
Sarah Whyte was a political reporter at Fairfax Media in the Canberra bureau, and was previously a joint Walkley Award-winning consumer affairs reporter in Sydney. Whyte began her journalism career as an intern at the Phnom Penh Post in Cambodia. She now works as a reporter for the ABC's 7.30 in Sydney.
David Wroe is The Age and Sydney Morning Herald's national security correspondent, writing about defence, terrorism and foreign affairs. He has lived and worked as a journalist in Cairo and Berlin, before returning to Fairfax's Canberra bureau in 2011. Wroe began his journalism career in 2000 as a cadet at The Age.
Amilia Rosa has been with Fairfax Media for 10 years. Based in Bali, Rosa has worked with four Fairfax Indonesia correspondents to cover stories including the Bali Nine from their arrest until this year's executions of Myuran Sukumaran and Andrew Chan, Schapelle Corby, the second Bali bombing and the Kerobokan prison riots.
Karuni Rompies started her journalism career in 1993 with Antara, the Indonesian news agency, moving to Japanese newspaper Yomiuri Shimbun three years later, and in 2002 working briefly with German newspaper Frankfurter Rundschau. In 2002, Rompies joined Fairfax in Jakarta, and has since reported on several suicide bombings, the 2004 tsunami, Australians caught with drugs, and bilateral ties.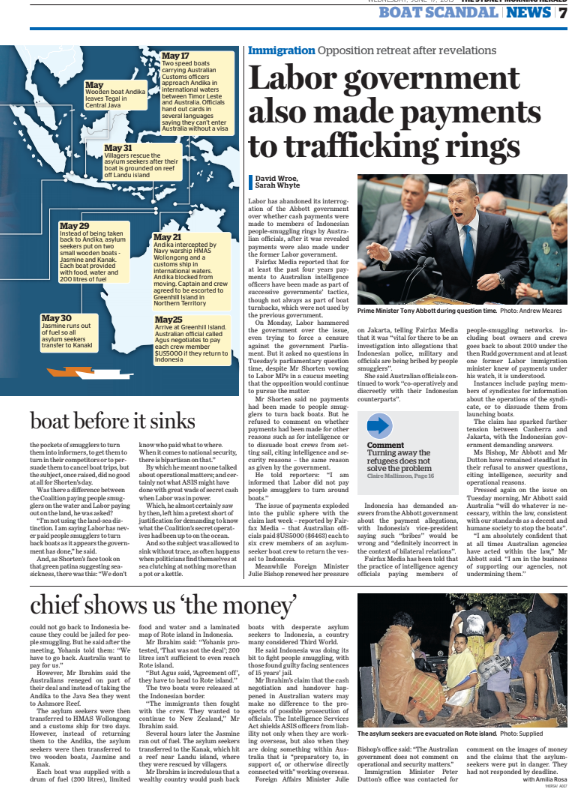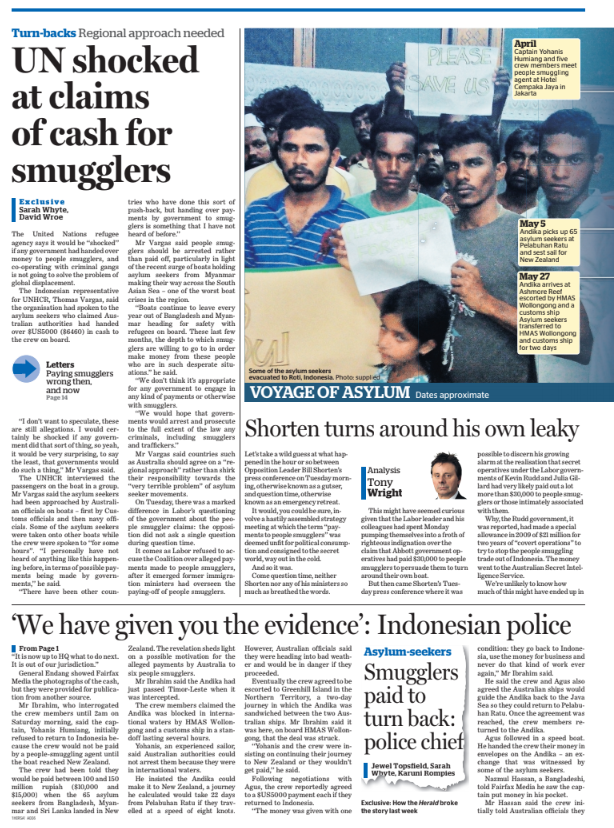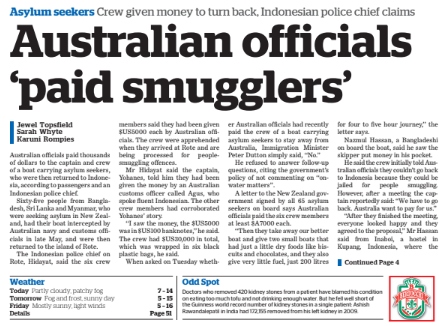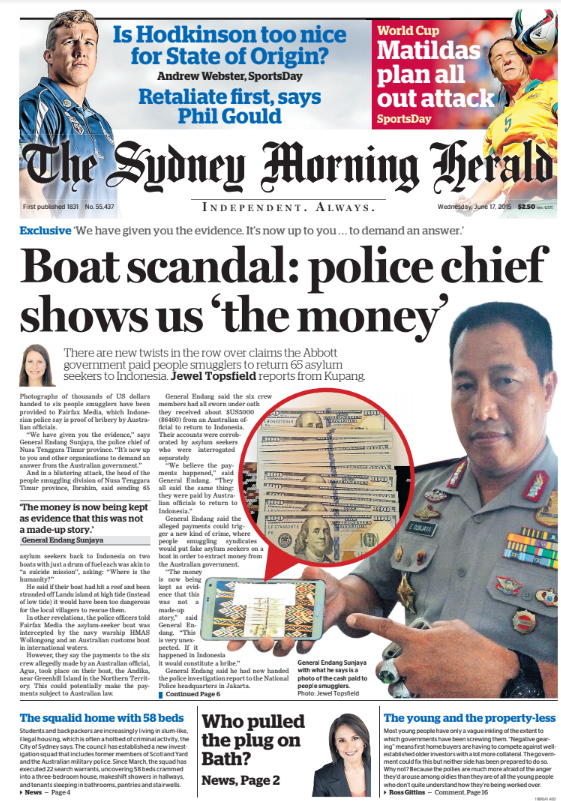 The Fairfax team literally showed us the money behind extraordinary claims that the Australian government had paid people smugglers to take boats of asylum seekers back to Indonesia. In the face of denials by government ministers, the reporters piled on the evidence that provided a rare insight into Australia's secretive refugee policy. They made the allegations and, when doubt was cast, they backed it up. They made people take notice. An amazing story.