It started with a tip in early March. Nick Hansen dug into research on the family of Australian Taxation Office (ATO) Deputy Commissioner Michael Cranston, as the Australian Federal Police (AFP) and ATO also investigated. Sure enough, dogged reporting and months of research and trust-building resulted in one of the biggest scandals of the year. By the time the AFP were ready to arrest Cranston's son Adam and his "co-conspirators" for allegedly defrauding the Commonwealth of $165 million in May, Hansen had secured exclusive access to the arrest and broke the story on the Daily Telegraph's front page. 
Hansen's reporting revealed an elaborate tax scam that funded a lavish lifestyle of planes, a racing car team, sports cars and property. In the aftermath, Michael Cranston resigned and faces charges along with his son and daughter. The AFP launched a civil suit to try to regain the rorted funds, and the ATO launched a thorough internal review. 
Hansen joined The Daily Telegraph 18 months ago after previous roles at regional Fairfax mastheads, ABC Radio in Newcastle and NewsLocal papers across Sydney. His new role was his first taste of crime reporting, working under the Telegraph's renowned crime veterans Mark Morri and Janet Fife-Yeomans. Hansen now routinely covers the city's major breaking stories. This is his first Walkley award.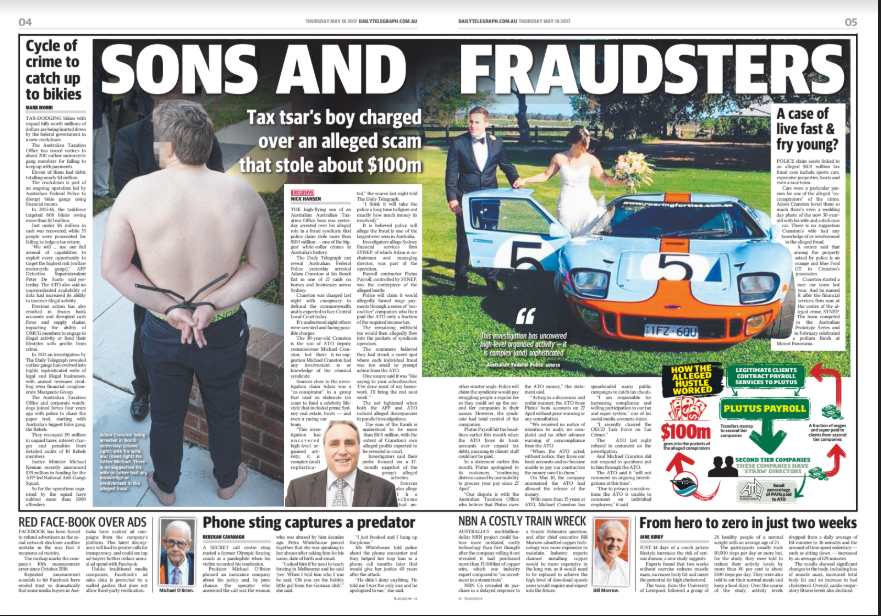 Through tenacious reporting, research, and sources, The Daily Telegraph's Nick Hansen has been at the forefront of breaking stories about one of the Australia's biggest white-collar scandals of the year. It resulted in the resignation of Australian Taxation Office Deputy Commissioner Michael Cranston who faces criminal charges along with two of his children.