Every sport photographer knows the power of the split-second. As does every athlete, for that matter. A split-second can mean the difference between victory and defeat, ecstasy and agony, heartbreak and triumph. Working with high-speed action, a range of light, weather and locations, Scott Barbour's portfolio captures key moments in a style the judges praised as "incredibly graphic". 
Whether using a long telephoto lens for exquisite focus on a high jumper against a vibrant background, or framing MotoGP bikes to look like tiny toys against heavy clouds rolling over the horizon at Phillip Island, Barbour knows how to make a peak moment pop. 
Of his hero image, "Marc Marquez crash", Barbour said: "Newly crowned world champion Marc Marquez was expected to easily win the Australian Grand Prix when he started from pole position, but amazingly he crashed out on lap 10. The biggest moment of the weekend happened right in front of me and I didn't miss it." 
Barbour has worked for Getty Images for the past 18 years, being based in Sydney, London and now Melbourne. He has previously won awards including World Press Photo, Sony World Photography Awards Sport Photographer of the Year and was Runner-up for the British Press Photographer of the Year award while living in the UK. His images have been published on the front pages of newspapers around the work and featured in Newsweek, Time, Sports Illustrated, ESPN, The Washington Post, The Guardian, the Times and the Telegraph. This is his first Walkley Award.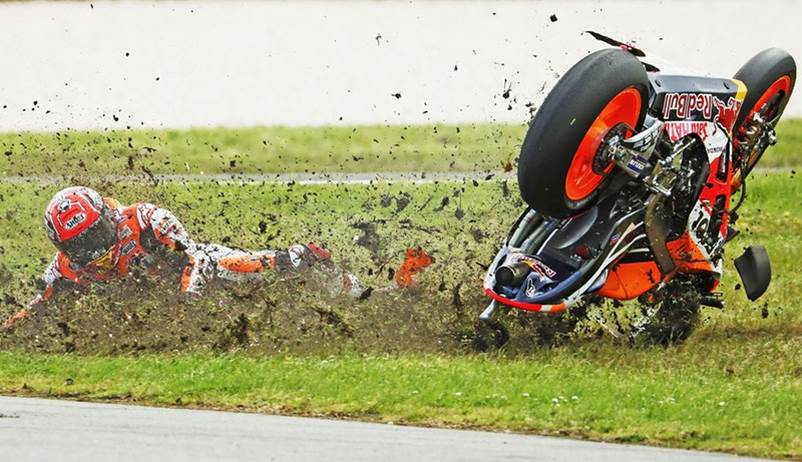 This set of photographs are incredibly graphic – which means they work well in newspapers. The framing, the light, the consistency: This portfolio is a standout. The photo of the cyclists is mesmerising.