Guardian Australia "Stan Grant Columns"
All Media: Coverage of Indigenous Affairs
With his commentary, Grant cut through the noise to drive and deepen the national conversation on the issues of his people. In particular, his piece on Adam Goodes being booed while playing his AFL matches communicated the experience of growing up Indigenous in Australia in a way that felt game-changing. One of Guardian Australia's most popular articles ever, Grant's willingness to put his personal story into the racism narrative achieved what few other commentators can demonstrate: it changed minds not only about the Goodes episode but about Australia's treatment of its first people.
Stan Grant has been a journalist for more than 30 years. He has worked as a political correspondent for the ABC, anchored numerous news and current affairs programs for the Seven Network and served as its Europe correspondent based in London. For more than a decade, Grant was a foreign correspondent for CNN based in Asia and the Middle East. He has won numerous international journalism awards including the Alfred I DuPont award, the Peabody and Asia TV award. Grant is now international editor for Sky News, he also presents a program for National Indigenous Television and writes extensively for the Guardian. Grant is a Wiradjuri/Kamilaroi man and is soon to publish his second book for HarperCollins looking at the impact of colonisation on his people. This is his first Walkley.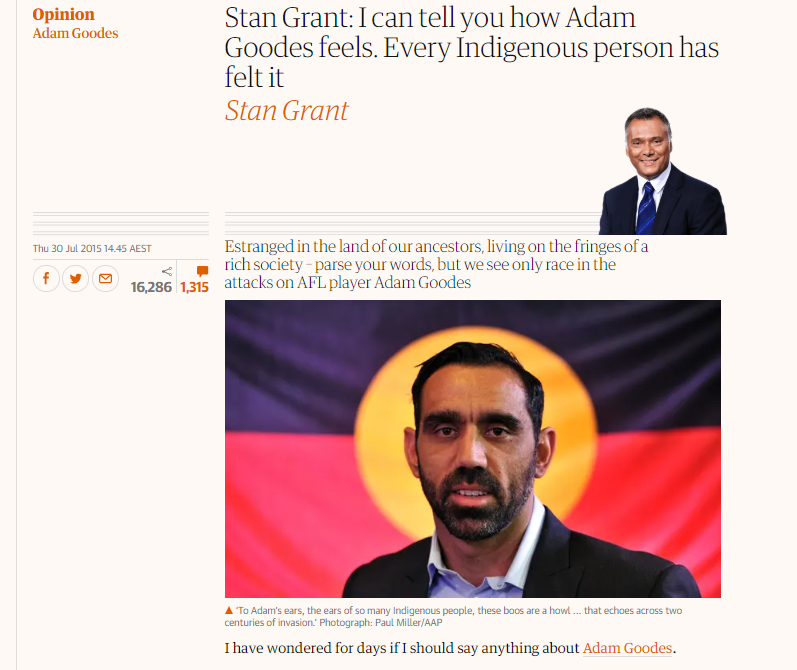 Through Stan Grant's work, in particular, you can tell how Adam Goodes feels. Grant's commentary reveals his own personal interrogation of racial identity. By exposing his own history, strengths and vulnerabilities, his writing has created a journalistic "game-changer" for those who need to be seen and heard as much as for those who need to learn what it's like to be an Indigenous Australian.