Reporting with respect for privacy, grief and trauma webinar
3 June 2021 @ 12:30 pm

-

1:30 pm

AEST

$10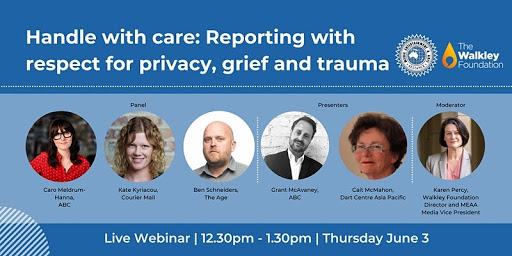 MEAA and The Walkley Foundation present: Handle with care: Reporting with respect for privacy, grief and trauma 
This second session focuses on using fair, responsible and honest means to obtain material. In the digital age, the "death doorknock" has been replaced with the social media stalk. It might be legal, but is it ethical?
Our panel will discuss misconceptions of privacy rights, the importance of respecting sources' grief and personal privacy, and ethical best practice for working with vulnerable and traumatised people. Working journalists will talk about how they approach these issues in the context of crime and investigative reporting, alongside experts on the law and trauma.
The session will feature presentations, a panel discussion and an audience Q&A.
A MEAA initiative established in 2005, the Media Safety & Solidarity Fund is supported by donations from Australian journalists and media personnel to assist colleagues in the Asia-Pacific region through times of emergency, war and hardship.
For any questions regarding the event please contact Walkley Foundation Events & Programs Coordinator Marcus Raue at marcus.raue@walkleys.com