The William Buckland Foundation Fellowship with The Age
This program will open to applications in 2023. Please subscribe to our newsletter to be notified when it goes live
Journalists from regional Victoria are invited to apply for for the William Buckland Foundation Fellowship with The Age, a hands-on experience in The Age's newsroom. Freelance, part-time and full-time journalists on secondments are eligible for a behind-the-scenes experience with this award-winning news team.
Thanks to funding from the William Buckland Foundation the recipient will receive a $20,000 stipend for the 12-week duration of the placement with The Age.
The Fellowship experience
Playing a hands-on role in researching, developing and writing stories you will work across all platforms, cultivate a network of contacts, build your investigative skills and gain a greater understanding of how the news is made in one of the country's leading newsrooms.
Over the course of the 12-week placement, this hands-on experience will include the following duties and responsibilities:
Breaking news: you will be assisting with researching, reporting and writing daily news.
General news: you will work alongside education and city reporters to learn how to develop urban and policy reporting.
Individual project: you will be allocated a dedicated project for online and print, and will be supported by senior Age journalists.
Plus other duties as directed.
Who can apply?
The fellowship will be open for applicants who fulfill the below criteria: 
Applicants must be a citizen or permanent resident of Australia.

Applicants must be freelance or part-time journalists based in regional, remote or community Victoria.

Applicants who have recently left a journalism role (within the last six months) are also eligible to apply.

Applicants who are in a full-time journalist position but are able to take an approved secondment will also be considered.
Selection criteria
The successful applicant will have:
A demonstrated passion for journalism across print and digital;
Excellent presentation, research and writing skills;
Knowledge of and familiarity with G Suite and digital publishing programs;
The ability to work in a busy environment;
Written and spoken proficiency in English;
Two-five years journalism experience;
A track record in generating ideas and a passion for pitching stories.
Applicants must be a citizen or permanent resident of Australia based in regional Victoria. Applicants must be either working freelance or part-time, or if full time, they must have permission for a secondment from their media organisation.
Please read the full terms and conditions here.
How can I apply?
Email corinne.podger@walkleys.com to express your interest. There is no application fee to apply.
Submission material
All applicants are required to submit the following material with their application:
1 x copy of their academic transcript (if still attending an academic institution)
1 x copy of a current CV (including details of a personal and a professional referee)
3 x examples of their best work
Summary of relevant skills, contacts and experience that would benefit The Age
In the application form, you will also be asked questions about why you are applying and what you hope to receive from this opportunity.
Have questions?
Get in touch at corinne.podger@walkleys.com
Previous Fellowship recipient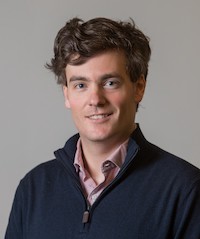 Congratulations to Jackson Graham, who has been awarded the 2020 William Buckland Foundation Fellowship with The Age.
A record number of applications was received from all around regional Victoria for this opportunity to spend 12 weeks inside The Age newsroom in Melbourne. Jackson Graham, a reporter with The Standard in Warrnambool, will use his time to develop new skills, receive mentoring and build contacts in one of Australia's leading newsrooms.
The Walkley Foundation thanks the William Buckland Foundation for supporting this initiative.
---