Walkley Young Indigenous Scholarship
With Junkee Media and 10 News First
Supported by BHP
Current winner
2023 WIN News Broadcast Scholarship winner: Isaac Muller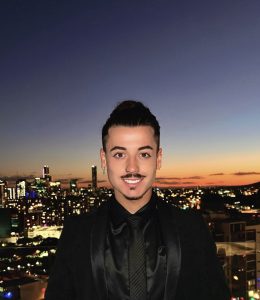 Isaac is a proud Wiradjuri and Palawa man. He is an ABC digital news, social media, digital and video and radio producer, livestream engineer, emcee, actor, model and former 3KND weekday radio presenter of the Midday Rush. Isaac's diverse background helps bring a unique perspective, break down barriers of intersectional minorities, and engage a broad audience.
About the Scholarship: Apply by 11.59pm, May 19, 2023
This is an exciting opportunity for an aspiring journalist who is Indigenous, and who is aged 30 years or under, to develop their newsroom experience with two leading news providers. This 12-week scholarship will be broken down into six weeks with Junkee Media and six weeks with 10 News First in Sydney. You'll develop a broad understanding of newsroom and production processes and requirements, and as a member of the team, you will be encouraged to share your ideas, skills and knowledge.
Thanks to BHP the recipient will receive a stipend of $10,000 to cover living expenses for the duration of the scholarship. The recipient will receive support and guidance from an experienced journalist who will mentor them throughout their placement.  Accommodation at the Tony Mundine Hostel is also available.

This twelve-week placement will be broken down into selected placements with dedicated duties and responsibilities, and consists of: 
A six-week placement at Junkee Media in Sydney, one of Australia's fastest-growing and most innovative new media companies. Junkee produces fast-paced digital news for a youth audience with a special focus on politics, social justice and culture. You will be involved in:
Junkee: 4 x weeks:  general reporting + produce a feature of their own choosing

Punkee: 1 week: Learn to produce video content

Video: 1 week: assist video team 
A six-week placement at 10 News First in Sydney, including exposure to daily broadcast news bulletins, social and digital content with 10 Daily and discussion and entertainment content as part of Studio 10. 
Essential
A demonstrated passion for journalism across broadcast and digital

Excellent presentation, research and writing skills

The ability to spot a newsworthy story

Experience in interviewing people in researching for stories

Experience in pitching stories and ideas on presentation of stories

The ability to be part of a collaborative, busy environment

Written and spoken proficiency in English

The ability to work to deadline

A positive, willing and adaptable approach to the role at all times
Desirable
Relevant work experience or contribution to wider community projects will be viewed favourably
All applicants are required to submit the following material with their application:
1 x personal goals essay demonstrating your passion for journalism. Please include why you want to be a journalist, your story so far, your aspirations and why a career in the media is important to you. 

1 x copy of a current CV (including details of a personal and a professional referee) uploaded as a PDF.

3 x examples of your best work.

This can be in the form of a Word or PDF document, a video MP4 or audio MP3, or a link to an online story.
In the application form, you will also be asked questions about why you are applying and what you hope to receive from this opportunity. You will be able to save your progress as you go along.
11:59pm Friday May 19, 2023: Applications close
Please note the application deadline. This date is final and there will be no extensions provided. The system will automatically prevent submissions after the deadline.
June 15, 2023: Winner announced at the Mid Year Celebration of Journalism
August 2023: Scholarship placement
The Walkley Foundation has been granted an exemption under section 126 of the Anti-Discrimination Act 1977 (NSW) in relation to its targeted scholarship program. For further details please contact us at walkleys@walkleys.com.
2022 winner: Kearyn Cox
Kearyn Cox is a 25-year-old Noongar Yamatji man born on Whadjuk Noongar country in Boorloo (Perth). Kearyn has fostered strong connections between South-West Western Australia and Geraldton. Kearyn is a proud storyteller and wordsmith and loves working with his community to share their important voices and stories for broadcast and online as the Western Australian correspondent for NITV. Currently studying journalism at the University of Western Australia, Kearyn aspires to someday travel the world as a sports commentator while inspiring the next generation of young journalists.
2020 winners: Molly Hunt and Jennetta Quinn-Bates
The field of applicants for the Walkley Young Indigenous Scholarship with Junkee Media and 10 News First supported by BHP was so strong, the judges have insisted on naming two winners. Congratulations to Molly Hunt and Jennetta Quinn-Bates, who will begin a 12-week scholarship program in February 2021 (postponed due to Covid-19) with Junkee Media and Ten News First in Sydney. Read more here.