The Age, The Sydney Morning Herald and The Canberra Times, Fairfax Media
All Media: Social Equity Journalism
A young Aboriginal woman, Angelina Joshua from in the remote community of Ngukurr, tells her story of fighting to preserve her ancestral language, Marra. This online interactive documentary, produced in consultation with community elders, blended voice-activated technology, animation and gaming to explore the crisis of global language loss. Around the world a language disappears every two weeks — in Australia, more than 90 per cent of Aboriginal languages are critically endangered. This high tech approach to the oral tradition concludes with a map to show how many people around the world have learned about Marra.
Fairfax's lengthy investigation and extensive coverage had a wide impact for young, low-income workers in the fast food and retail sectors who were underpaid more than $1 billion dollars. As a result of the stories, many companies are paying millions more dollars in wages and penalty rates, while the union vowed to review 100 agreements.
Ben Schneiders has worked at The Age since 2006 in roles including senior writer, workplace editor and as a night news editor. Before joining The Age, Schneiders worked as a business writer at The Independent on Sunday in London. He started his career in newspapers in 2003 at The Australian Financial Review.
Nick Toscano has been a journalist at The Age in Melbourne since 2013 and previously worked for Fairfax's suburban newspapers in Melbourne's west. At The Age Toscano covered general news, education and crime before he became the newspaper's workplace reporter. He was a Walkley Award finalist in last year's business category for The Age's expose on Belle Gibson's charity fraud.
Royce Millar joined The Age investigative team in 2008. He trained in radio in the mid-1980s before working in local newspapers. Millar freelanced through the late 1990s, and joined Fairfax in 2002 where his roles have included a stint as The Age city editor. He has won a string of media awards, including Melbourne Press Club Quills.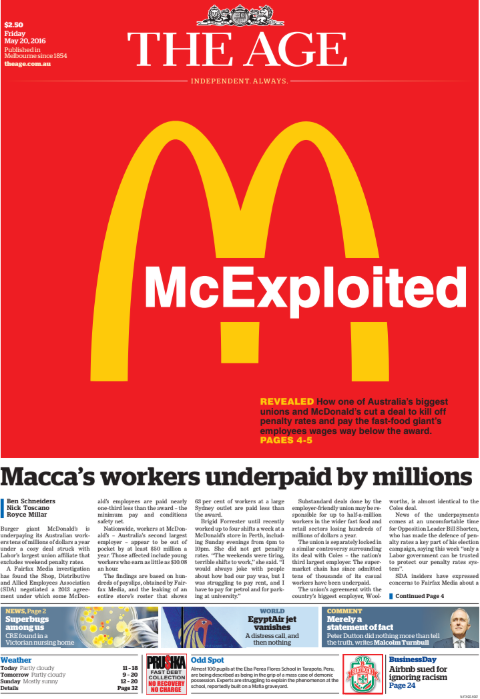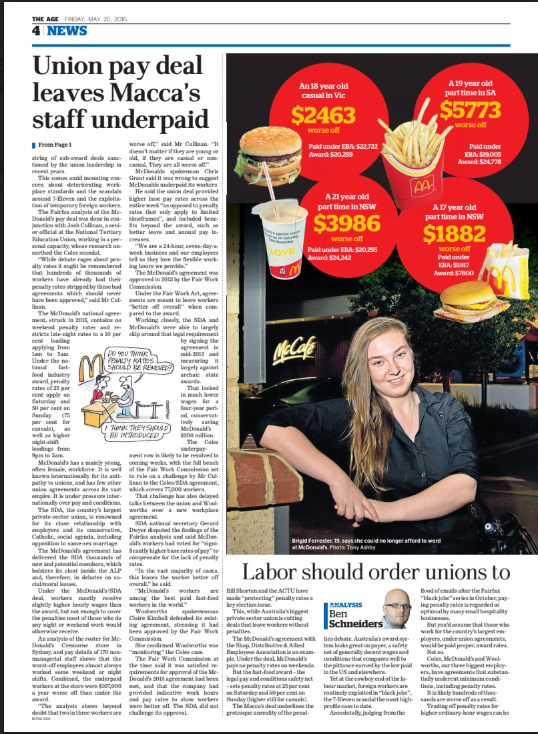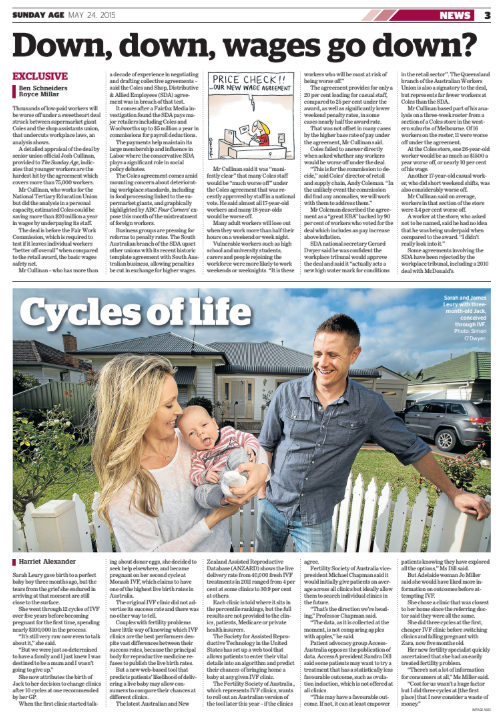 "Sold Out: Australia's biggest wages scandal" had the widest impact of all the stories in this category. The lengthy investigation exposed how deals between some of the country's major employers and a union effectively left many of Australia's lowest-paid workers out of pocket. The extensive coverage led to some companies paying out millions of dollars and the intervention of the nation's industrial tribunal.