Print/Text: Feature Writing Long (over 4,000 words)
This shocking six-month investigation into the Family Court's response to allegations of domestic violence and child abuse lost none of its power for having to delicately protect the anonymity of its sources. On the strength of Hill's previous reporting on domestic violence, sources contacted her with accounts of fathers with criminal histories of violence and child sexual abuse getting unsupervised access to their children. Some mothers alleging abuse had been subjected to false counter-accusations, alienated from their children and lost care of them. Family lawyers had advised some clients not to raise allegations of child abuse or domestic violence at all.
Since "Suffer the Children" was published, two campaigns have been launched calling for reform of the Family Court and the essay has been quoted in Senate Estimates.
Jess Hill is a freelance investigative reporter for The Monthly and Background Briefing. In 2011, she represented Australia on the Edward R Murrow Fellowship, and then moved to Cairo as Middle East correspondent for The Global Mail. Foreign Policy ranked her in the top 100 women to follow on Twitter, and in 2013, she was one of Cosmopolitan's 30 most influential women under 30. In 2015, her reporting on domestic violence won three Our Watch awards, and this year, she was awarded the Walkley for Women's Leadership in Media. Hill is writing a book about domestic violence.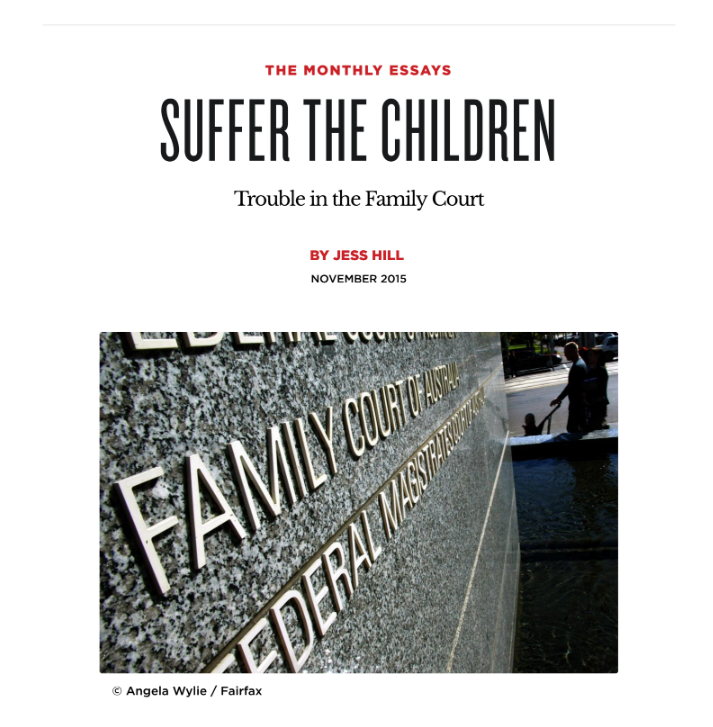 With an impressive balance of tenacity and sensitivity, Jess Hill has managed to peel back the heavy blanket of secrecy that weighs on the Family Court. She reveals an alarming flaw in proceedings that too often sees children ordered into the care of an abusive parent. Very moving and beautifully put together, a powerful and impactful read on a taboo subject where many journos fear to tread.