"Carpe PM: Turnbull biographer Paddy Manning turns on the PM"
The craft of a good headline has evolved over recent years, and so too has this category, recognising the importance of the tiny but mighty nuggets of journalism, wit and wordplay that make sure readers and viewers find great stories. The classic elements are still very much the key: economy of expression, playfulness of language, a burlesque of meaning that reveals just enough of the story to catch the reader's speed-skimming eye. Michael Nolan is a veritable Dita Von Teese of the headline game and his work here uses his full wardrobe of tantalising words to transport audiences into the story. His influences are a broad church: biblical, cultural, classical. It's a pleasure to join him in worshipping at the altar of a well-crafted pun. He explains his winning headlines best: 
The father, the son and the Hillary ghost: "Evidence of links between the Trump campaign and Russian government may yet deliver news of biblical proportions in the US, and here we had Donalds Sr and Jr again exposed. Clinton, mostly withdrawn from public appearances since the election, remains a spectre hovering over the Trump presidency." 
Dualling ban grows: "When revelations of Matt Canavan's [possible] Italian citizenship broke, we turned from the hapless yet urbane Greens to the old Country Party in Queensland. We hadn't even heard about Barnaby Joyce yet, but the banjos were gathering pace." 
Carpe PM: Turnbull biographer Paddy Manning turns on the PM: "In his comment piece, Manning truly seized Turnbull in his teeth, as he explained how he'd changed from admirer to bitter critic. 'Who could have predicted the combination of gutlessness, vacuity and incompetence that this prime minister has delivered?'" Nolan is the production editor of The Saturday Paper, and a founding member of the editorial team since its 2014 launch. He joined the paper from Penguin Australia, where he was a senior book editor. He is a former speechwriter and features writer, and he is the co-producer and host of the spoken word event Liner Notes. This is his second Walkley nomination for headline writing, and his first win.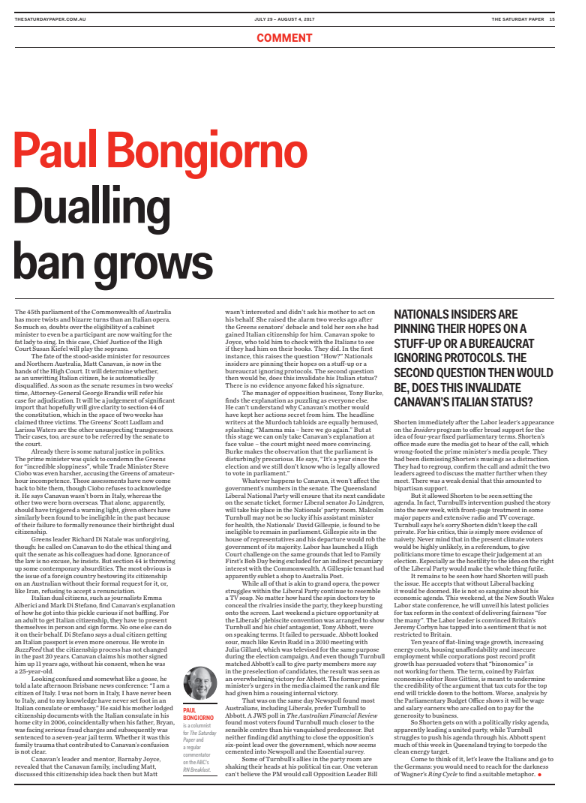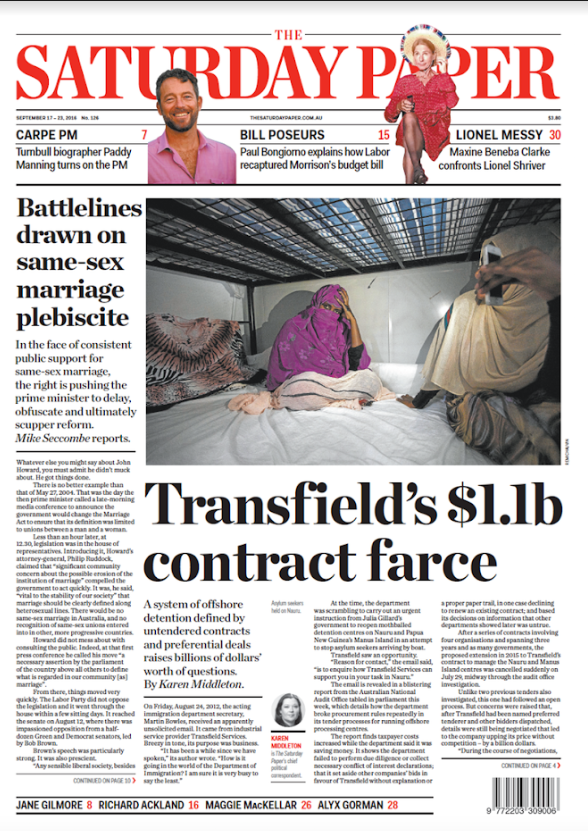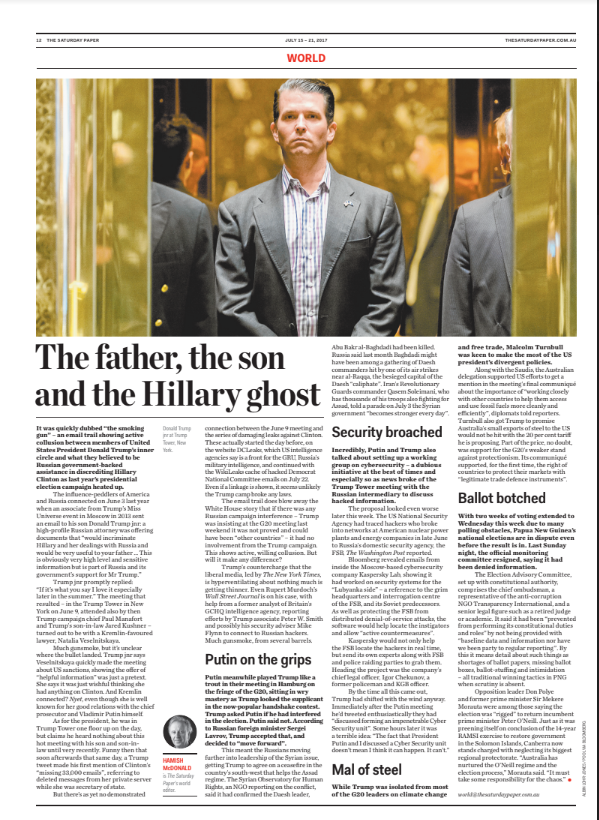 This is funny, clever word play which thoughtfully engages the reader. While imaginative and entertaining, each still forecasts accurately what the article will address. All three headlines exhibit the same high standard of execution.