Applications have closed for the 2022 scholarship. The winner was announced at the Walkley Foundation's Mid-Year Celebration of Journalism in Sydney on June 15, 2022.
About the Scholarship
This scholarship caters to aspiring journalists who are looking for an opportunity to follow their dreams of a career in the media. This scholarship will be open to an outstanding student in their final year at university, or a recent graduate aged 26 years or younger.
WIN News are providing an exceptional opportunity to learn from newsroom leaders and sharpen your reporting skills in the broadcast industry.
The prize
The successful applicant will complete a minimum of six weeks at the Wollongong office, with an option to complete the remaining six weeks at one of the following WIN regional news centres:
Sunshine Coast
Hobart
Albury
The recipient will have hands-on experience by accompanying journalists and camera operators out in the field. Under the guidance of the News Director and Chief of Staff, the recipient will have the opportunity to go source, write and voice reports, which will be broadcast in the 5.30pm WIN News bulletins. The recipient will also have an opportunity to learn from news presenters in the studio.
The recipient will receive a $10,000 stipend for the 12-week duration of the scholarship.
2022 WIN News Scholarship Winner: Fraser Williams, Curtin University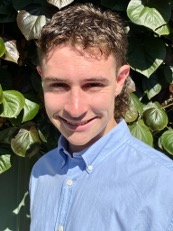 Fraser Williams is in his final year at Curtin University, studying a communications degree majoring in journalism and corporate screen production. Born and raised in Perth, Fraser has completed internships and volunteered to write for many different outlets. This developed his passion for connecting with people and telling their stories. Fraser hopes to work full time in the broadcast industry in the future.
There is no entry fee to apply for the WIN News Scholarship.
Quick links
Selection Criteria
Terms and Conditions
Application form
Selection criteria
Selection criteria includes the following:
• A demonstrated passion for journalism across broadcast and digital.
• An excellent academic record.
• Written and spoken proficiency in English.
• Excellent presentation, research and writing skills.
• Excellent presentation, research and writing skills.
• Knowledge of and familiarity with Microsoft Office, G Suite and digital publishing programs.
• The ability to be part of a collaborative busy environment
• Work experience or contribution to wider community projects will be viewed favourably.
Find the full selection criteria here.
Terms and Conditions
Applicants must be a citizen or permanent resident of Australia aged 26 years or under.
They must also be enrolled in journalism or communications studies at an Australian university. Recent graduates may also apply.
Shortlisted applicants must be available to be interviewed by the judging panel in person. The applicant must be available to undertake the 12-week scholarship at a date agreed on by WIN News and the Walkley Foundation.
Please read the full terms and conditions here.
Questions
Check the Terms and Conditions here. If you still have questions, please contact
Submission material
It's free to complete an online application through the AwardsForce platform.
You will need the following items to complete your online application:
1 x copy of your academic transcript
1 x copy of your current CV
3 x examples of your best work
In the form, you will also be asked questions about why you are applying and what you hope to receive from this opportunity. Remember, this is a journalism scholarship so accuracy and spelling are key factors! Don't panic though- you can save your progress as you go along, and can return to the application form if you need more time.
Thanks to WIN News for supporting this scholarship