If you missed our Masterclass webinars earlier this year with some of Australia's best journalists, we have good news for you – they'll all be available to watch on demand online, rolling out each week, supported by the Copyright Agency Cultural Fund.
Do you have a book in you? With all that time in self-isolation surely you've been thinking about expanding your reporting or writing into a book-length work of non-fiction. If so, this is the masterclass for you.
Walkley Book Award-winning journalist and author Helen Pitt (The House) will take you through the process from planning and research to writing, editing and publication.
Helen will help you see the skills you already have, and how you need to adapt them from shortform news gathering, to a long-term, longform work. Structure is critical, both for your time and the narrative itself. How should you integrate research into your process, and what sources should you consider? At what point should you try to get a publisher interested, and how does that process work? Helen will answer these questions and more.
Who should attend
Journalists, writers and interested members of the public who would like to learn more about how to approach a longform non-fiction writing project.
What you'll take away
Tips for planning a longform non-fiction writing project including advice on structure, research and writing routines.
Helen Pitt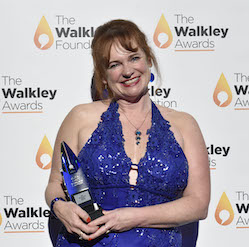 Helen Pitt is a Sydney Morning Herald journalist who has worked as a senior writer, the opinion and letters editor at this newspaper where she began her career in 1986. She has worked as a feature writer for The Bulletin magazine, in California for New York Times Digital, and as a television reporter at Euronews in France.
In 1992 she was selected to take part in the Journalists in Europe program in Paris. Her feature writing has won the Austcare Media award and been highly commended in the UN Media Peace prize. Her book The House (Allen & Unwin) won the 2018 Walkley Book Award.
Book-length Journalism
Supported by: