Joanna Lester, Madeleine Hetherton and Rebecca Barry, 2020 winners of the June Andrews Award for Women's Leadership in Media, supported by PwC
"I was in a country where rugby league is the national sport, but it's one of the most challenging places in the world to be a woman in terms of lack of opportunity, gender-based violence"
The filmmakers and producers of "Power Meri" won the 2020 June Andrews Award for Women's Leadership in Media for their documentary following Papua New Guinea's first women's rugby league team to a World Cup.
The documentary shows how, through their participation in PNG's male-dominated national sport, the pioneering female rugby league players are challenging attitudes about women, against a backdrop of widespread gender-based violence (watch it here).
"Power Meri is a powerful depiction of PNG's first female rugby league team, who overcome discrimination and social media scorn to finally win the respect of their nation," the June Andrews Awards judges said.
"Given the dominance of negative stories about PNG's crime and violence rates, it's a refreshing account of the power of women to challenge and change attitudes, in politics and sport. The filmmakers clearly worked hard to build trust and gained exclusive, behind-the-scenes access to the players. The film has had significant national and global impact."
We spoke with first-time documentary-maker Joanna Lester about the power of sports reporting to change entrenched ideas about gender, and why reporting on the Pacific — and PNG in particular — is essential for Australia to understand its place in the world.
---

Congratulations, first of all, on winning the award. What does it mean to your team to win the Women's Leadership Award in particular?
To win any award associated with the Walkley Foundation is a huge honour. This award in particular is extra special because by its very name, it's about women's leadership and "Power Meri" is a story about women's leadership, and particularly how sport contributes to women's leadership and creating female leaders. I think this is something that people are only starting to really understand the full potential of recently — certainly people outside of sport.
"Women's sport is about far more than what happens on the field. [It's] the potential of a sporting environment to create female leaders and change the way that the people in the community see women"
Even within sport, women's sport is about far more than what happens on the field. [It's] the potential of a sporting environment to create female leaders and change the way that the people in the community see women; this is a really important part of the story of "Power Meri". To win an award that brings together women's leadership with what the story says, is just perfect, really.

Tell us a little bit of the story behind story. How did you come across the story of this football team and how did it develop? What were some of the challenges or obstacles you bumped into along the way?
I've always been a journalist focused on sport, rugby league in particular. Papua New Guinea is the only country in the world where rugby league is the national sport. I'd always been intrigued to go there.
"I was in a country where rugby league is the national sport, but it's one of the most challenging places in the world to be a woman in terms of lack of opportunity, gender-based violence"
I went there for the first time in 2009, but I actually moved there to live in 2014, and I was working on a rugby league community program. Most of my colleagues were female, and all of them were rugby league players. I'd actually never had anything to do with women's rugby league before that. Here I was in a country where rugby league is the national sport, but it's one of the most challenging places in the world to be a woman in terms of lack of opportunity, gender-based violence, all these things. There was this really interesting dichotomy where the women that I was getting to know, working alongside, were making change through playing rugby league. I really wanted to tell that story on a wider scale.
When Papua New Guinea got a place in the last Women's League Rugby World Cup, that was the perfect opportunity to follow their journey, through the lives of some of the players, and see what impact it had on a wider scale.
It's only early days, but what impacts have you seen the film have upon individuals, and also perhaps at a societal level or legislative level?
Quite a few actually. One of the challenges I had at the beginning of this project was how far people within sport saw women's sport as a force for social change. Obviously, I did, which is why I was telling the story, and the players that we focused on in the documentary did as well.
It was their shared vision and ours that made this happen, but more broadly, whether the rest of the team, the coaching staff and sport in general thought it was worth disrupting the journey of a team to a World Cup to have a small film crew with them along the way and tell this story for the sake of the bigger picture…that was something that we really had to work on along the journey. I think one of the impacts of "Power Meri" is that now people really see that.
The team itself and the management of the team have really embraced this. The players go to a lot of community screenings, they speak about their own story and about the film. They're really seen as pioneers in the community, not just as female rugby league players but generally as female leaders. That's been one big impact.
"The team has also received quite a lot more funding as a result of being profiled in the film, but particularly being profiled as a team of extraordinary women making change"
The team has also received quite a lot more funding as a result of being profiled in the film, but particularly being profiled as a team of extraordinary women making change. That reshaping of women's sport, and its bigger impact on society, has actually helped the team as well.
Just from the perspective here in Australia, I think putting a PNG story in front of Australian audiences that is uplifting and about women is actually very rare. I think most Australian audiences see fairly depressing things about Papua New Guinea, if they see anything at all in the news. A lot of people have commented on that too.
What are your thoughts about the way that PNG and the Pacific in general is reported in Australian media?
I have very strong feelings about this, because it tends to be so minimally reported. I'm so glad that the Walkley Foundation now has the Sean Dorney Grant [for Pacific Journalism]. Sean Dorney is obviously one of my idols in journalism, being one of a very small number of people that bridge journalism and rugby league in Papua New Guinea. I think he and I are in quite a small club there. I'm very glad that and some other initiatives, particular funding initiatives, are putting Pacific journalism slightly more at the forefront.
But still, within the mainstream media newsrooms in Australia, there's not that much interest in producing Pacific content. In some of my previous journalistic roles, I've pitched stuff often and there wasn't a great deal of uptake, but Papua New Guinea is our nearest neighbour, with a population twice the size of New Zealand, with so many interesting parts to the relationship, which is only going to develop and get stronger from a strategic perspective. I do think it's crazy how little we hear about the Pacific in general, but Papua New Guinea in particular, in the Australian media. I really hope that we will see that increase.

On the topic of representation, Australia obviously has a long way to go towards achieving full gender equity in newsrooms and media, particularly management roles. What are some of the positive things, or what do you think are some of the things that could be done, improve gender equity in Australian media?
It's a very tough question. I think the diversity in Australian newsrooms is not just about gender equity, but also about diversity within that. I'm an English-born filmmaker telling a story of Papua New Guinean women. I was very conscious that the story would always be told in their voices from their perspective. We were never going to have a narrator, but it was me as the driving force behind this documentary that was now allowing them to tell their story.
That's partly because a lot of these perspectives are missing in the mainstream media in Australia because they're not represented among the staff of media organisations. I think to address both the lack of diversity and the lack of gender diversity, I think it really comes down to who's ending up in those newsrooms in the first place.
I'd like to see more outreach at the educational, university level to encourage a more diverse range of people to go into journalism. We all know that has to start somewhere. It starts with who you see on screen telling those stories and whose voices you hear in those stories. This is something that a lot of countries are grappling with, but I think we often say in sport, you can't be what you can't see, and that goes for journalism as well.

What got you started in journalism as a field early on? Was it an attraction to sport or journalism or a combination of both? Or was it another thing that drew you in?
I can't remember exactly when I started wanting to be a journalist. It was quite young. When I was still at school, I would do little local media projects. Sport was my way into journalism. I didn't actually go into journalism because I wanted to be a sports journalist. For a long time I worked in news as well, but sport was actually the easiest way to get into journalism, ironically. As a woman covering a male dominated sport, like rugby league, that was a bit of a novelty.
"["Power Meri"] is a great example of how sport can have a greater impact than other types of stories. Also, it's an uplifting subject matter that people can really relate to"
Do you find that sport can perhaps act as an allegory for greater social questions, or for looking at society as a whole through that lens?
Definitely. "Power Meri" is a particularly strong example of that, in that we're seeing the community attitudes about women — in a country where women face a lot of challenges — playing out through the lens of sport. The social media commentary about the team reflects a much broader challenge in PNG for women to be respected, to be seen as leaders.
But in this particular case, because this is such a popular sport and one with such a large male audience, we've had quite a lot of feedback from screenings around Papua New Guinea that the film is really encouraging a lot of discussion, but also prompting a rethink among some [of the] men and boys about the role of women.
Even from Australia, actually, we had a viewer contact us after "Power Meri" played on TV saying her younger brother, who I guess is a young teenager, didn't agree with girls playing rugby league before, he wouldn't watch it at all. But after watching "Power Meri", he now watches women's rugby league when it's on TV all the time. She'd obviously been having this argument with him for years. It was so lovely to receive that feedback.
For your team, what do you think will be the best outcome, or the most inspiring thing for you about receiving this award?
Whether you like it or not, winning an award really does make a lot more people take notice of the story. My goal in general is to enable as many people as possible to watch it, and not just watch it, but to use it in their community. Use it as a tool. Whether that's to prompt discussion about gender equality, whether it's within a sporting context to encourage more women to play.
There have been lots of people using it on a small scale in those settings, and the more people that know of its existence and that it could be of value to them, the better. I think winning this award will hopefully just help us publicise the film a bit more, and encourage more people to use it in Australia and Papua New Guinea and beyond.
What's your personal message to the Australian public about why public interest journalism and these diverse stories, representing views not often seen in mainstream media, are important to Australian society and to our functioning as a democracy in society?
I think we all know that the information that we access naturally is becoming more and more of an echo chamber. Our own views are being reinforced via our social media feeds. So many people only really consume media that way. Journalism and commission work beyond that is really some of the only ways to reach people with those broader perspectives.
As I touched on earlier, I do think it's extraordinary not only that so many Australians don't engage with PNG, but that so many Australians don't even know that Papua New Guinea is our nearest neighbour. I can't think of many other countries in the world where people wouldn't know what the nearest country was, but that seems to be quite common here. I just think with understanding Australia's place in the world, it's essential to have these stories, and mainstream media organisations are places that have the ability to showcase them.
Is there anything else that you'd like to add?
While the three of us are credited with this award, "Power Meri" reflects the commitment and talent of our entire crew: cinematographers David Lloyd-Lewis and Jonathan Fang; editors Nikki Stevens and Bernadette Murray; composer Caitlin Yeo and sound designer Damian Jory; along with our PNG crew Benard Poma and Karen Javati, and many other women who worked with us on the production.
The funding partners of "Power Meri" — US Embassy Port Moresby, Australian Department of Foreign Affairs and Trade (DFAT), National Rugby League (NRL), Australian Broadcasting Corporation International Development (ABCID), Screen Australia, and Oil Search — showed great vision in backing a project that represented a groundbreaking intersection of journalism, filmmaking, sport and women's empowerment, and we thank them for their invaluable support.
Most importantly, "Power Meri" would not have been possible without the support of the PNG Orchids players, staff and management to embed our small crew with the team, and the Women's Rugby League World Cup facilitating behind-the-scenes access. We are delighted that the film continues to bring well-deserved exposure to both of these organisations, and [that it's] sharing the story of their impact beyond the audiences that watched the tournament at the time.
It's just such an honour to win this award, to win such a prestigious journalism award for a story that is primarily about sport, although about more than sport, We've often had difficulty with this project being pigeonholed as sport, but this award is real vindication that it's about so much more in terms of women. We're extremely happy.
You can watch "Power Meri" here.
Read the winner announcement here.
---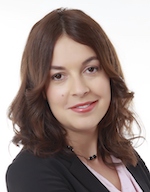 Joanna Lester (Filmmaker)
Joanna is a journalist and filmmaker who focuses on the social impact of sport. She worked for the BBC, ABC, SBS and Fairfax before moving to Papua New Guinea in 2014. There, she decided to document the story of the country's pioneering female rugby league players who, through their participation in PNG's male-dominated national sport, were challenging attitudes about women against a backdrop of widespread gender-based violence. Her debut documentary, "Power Meri" (Powerful Women), is screening on TV and in cinemas, communities and schools around the world, and being used to drive discussion about the treatment and status of women.
Madeleine is an experienced director and producer. She works across a wide range of documentary and top rating factual programs. Her filmmaking has taken her around the world from diamond diving in Africa to wildlife trafficking in Burma and through the remote Australian outback. Recent work includes directing the feature documentary "The Surgery Ship" and later as Series Producer/Creator for "The Surgery Ship" (eight one-hour episodes) series for National Geographic Channel. Most recently she co-produced "Debi Marshall Investigates: Frozen Lies" — a five x one-hour True Crime series for FOXTEL.
Rebecca is a director and producer and is co-founder of Media Stockade. Her work includes the documentary film "I am a Girl" (nominated for four AACTA awards) and producing the critical and ratings success "The Surgery Ship" (SBS), which evolved into an eight-part series with National Geographic. She was also the producer of the controversial film "The Opposition", which screened at Hot Docs, IDFA, Sydney Film Festival and was opening night film at HRAFF. More recently, "China Love" (ABC) has been enjoying a life on the festival circuit (DOCNYC and GZDOC) and true crime series "Frozen Lies" recently screened on Foxtel.
---
Watch interviews with the winners of the 2020 Mid-Year Celebration of Journalism

The June Andrews Award for Women's Leadership in Media is supported by PwC