Photo: Journalist and photographer Ian Kenins. Photograph by Robin Canniford.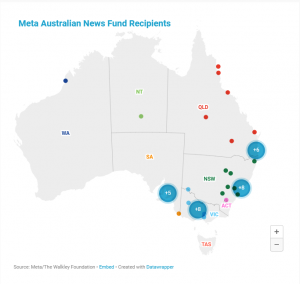 Click anywhere on the map to interact
Newsrooms and independent journalists across Australia to receive AU$5 million from the Facebook Australian News Fund
Multimedia gear, virtual news desks and even bushfire protection suits are among the latest tools of the trade to be awarded to Australian journalists and small news organisations striving to rekindle public interest journalism and accelerate their digital transition.
As part of the Facebook Australian News Fund, Meta and The Walkley Foundation are today delighted to announce $5 million in funding for 54 news organisations and independent journalists across Australia as part of a $15 million, three-year investment into the most promising public interest journalism and digital newsroom projects. The program prioritises applicants with digital publications in regional areas and those who cater more directly for Indigenous communities, women and other under-served audiences.
Funding from the Facebook Australian News Fund is split into the $2.5 million Public Interest Journalism Fund and the $2.5 million Newsroom Sustainability Fund, which will support newsrooms and journalists to create public interest journalism, to harness the power of technology to engage their audiences and to build sustainable news businesses. 
The Public Interest Journalism Fund offers funding of up to $120,000 to small, regional publishers and independent journalists to fund news projects of public interest value and to encourage media diversity.
The Newsroom Sustainability Fund offers funding of up to $250,000 for regional newsrooms and digital-first publications for innovative and revenue-generating projects, such as subscription products, digital technology and broadcast studio equipment.
Funding will go directly towards a range of innovative projects, including news apps that aggregate content from radio and local newspapers, membership models where subscribers inform the editorial agenda, and hyperlocal community news forums. 
Regional journalism is in a well-documented state of flux and is facing unprecedented funding challenges, which the Covid-19 pandemic has magnified. More than 227 print or digital news mastheads have either closed or reduced services since January 2019, according to the Public Interest Journalism Initiative's Australian Newsroom Mapping Project. Some 155 of these were the result of a contraction in a rural or regional area. As a result 33 local government areas, or six per cent of Australia's total municipalities, are now without a local print or digital news outlet.
The CEO of the Walkley Foundation, Shona Martyn, said the impact of the Facebook Australian News Fund on Australian journalism will be profound. "Money is going directly to the projects across Australia that our judges considered the most worthy during a rigorous arms-length assessment process," she said. 
"We received a total of 169 applications in this round. During the stringent judging process, budgets proposed by the applicants were analysed line-by-line. By offering partial funding to some projects, we ended up funding more applicants than originally envisaged. The two judging panels were looking for real need, creativity and detailed plans that could be guaranteed to deliver. The diversity of the successful applicants and the spread of awards across Australia is both encouraging and inspiring." 
"This week's devastating floods in Queensland and northern New South Wales illustrate the importance of having a strong on-the-ground media presence in regional locations who have an intimate understanding of the area and its people," Martyn added. 
"As part of our investment in Australian news, we wanted to ensure that smaller, regional, rural and digital newsrooms were supported," said Andrew Hunter, News Partnerships Lead for Meta Australia. "Funds are going directly towards public interest journalism as well as projects to help newsrooms grow and diversify revenue streams. We think it's essential that these newsrooms are economically sustainable so they can continue to tell the stories of their communities." 
The Walkley Foundation independently managed the judging process of the Facebook Australian News Fund  and engaged a panel of media experts to choose the most credible and compelling projects. 
Of the 169 applications that were received, 67 per cent came from news organisations or freelance journalists based in and/or serving audiences in a regional area. Among the 54 successful projects, the same percentage were either regionally based or serving audiences outside a capital city. The progress of the recipients' programs will be monitored over the coming year.
The successful projects
The 54 projects funded by the Facebook Australian News Fund reveal an insightful snapshot about the state of public interest journalism in regional Australia and for migrant and specialist audiences. Dozens of projects also illustrated first-hand the impact of the Covid-19 pandemic on newsrooms in regional Australia. But amid the closures and cutbacks, they also revealed a new wave of media entrepreneurs committed to taking advantage of the shift to digital technology that the pandemic has accelerated. 
Crucially for the future viability of regional public interest journalism, the funding will enable four seasoned media investors to establish or relaunch print or digital mastheads in regions where a news outlet permanently closed during the Covid-19 pandemic. These newspapers are Longreach Leader, South Burnett, South West Queensland Leader, South Eastern Times and Fleurieu Newsmedia. 
Investing in regional journalism
Code-named "Project Petrichor", AAP will send journalists and photographers on a series of carefully planned, week-long news-gathering missions to unearth and highlight stories that matter to regional rural communities and give them a national audience. First Nations Media will also establish a network of stringer journalists in remote locations to deepen their coverage of these underserved communities.
Investing in media diversity
The National Indigenous Times will create Australia's first Indigenous image library, which will allow media outlets to source culturally-appropriate images of Indigenous people."This funding will support the creation of a First Nations Image Service to be set up by the NIT giving Indigenous Australians another way to tell our own stories," National Indigenous Times' Sara Bergmann said. "Our vision is for this service to supply traditional and online media, businesses and the community with news images produced by Aboriginal and Torres Strait Islander people."
"Funding from the Public Interest Journalism Fund will support the NIT to bring regional Indigenous news and opinion to the whole of Australia. This is a great opportunity for regional stories to be told from the perspective of the Indigenous people who know them," Bergmann said. 
Promoting independent public interest journalism
Nine independent freelance journalists have received funding for their public interest journalism projects. 
Freelance journalist John van Tiggelen will produce a series of long-form reports including a detailed study of regional communities recovering from Covid-19. 
Independent film production company Ninti Media will investigate the Kangaroo Island timber plantation saga stemming from the Black Summer bushfires of 2020. "I'm thrilled to receive this funding as it will allow me to invest in research and the time-heavy production of my documentary with a dedicated crew," Ninti Media founder Daniel Clarke said. 
"Having a concrete funding base like this ensures I can focus on investigating and telling the story to its fullest without the common problem of needing to search for further financial support to get it completed. I thank Facebook and the Walkley Foundation for supporting vital regional journalism, which is so often forgotten or ignored," he added.
Investing in digital transformation
The Daily Aus, a digital-first news publication for young Australians, will invest in building bespoke polling technology to allow them to survey Australians on the issues that matter to them – and use this research to deepen their journalism.
"The Daily Aus is so delighted to be launching a new core offering with the support of Meta to better understand the attitudes and behaviours of young people. Young Australians are typically underrepresented in the media, and we're on a journey to rectify that," the co-founder of The Daily Aus Zara Seidler said. 
IndianLink, an established print and online publication for Australia's 750,000-strong Indian diaspora, will use the funding to rebrand its publication and relaunch its website to appeal to younger audiences and increase its reporting on LGBTQI, sustainability and other under-reported issues relevant to its audience.
Family-owned The Illawarra Flame will launch a hyperlocal online news site and monthly magazine through the merger of three separate existing print publications. This will enable the team to create video content, increase their social media presence, and provide more grassroots coverage of community affairs in the Illawarra region that larger media outlets neglect.
The full list of funding recipients for the Facebook Australian News Fund:
Newsroom Sustainability Fund
| | |
| --- | --- |
| Organisation name | Project description |
| 2SER | Content publishing and fundraising platform restructure |
| Australian Associated Press | Direct to business and government newswire |
| Bundaberg Today | Women in Agriculture lift-out |
| Cairns Local News | Cairns Local News digital transition |
| Galah Press NSF | Membership model launch where subscribers inform the editorial agenda |
| Indian Link Media Group | Website rebrand and expansion of digital content |
| IndigenousX | 10-year anniversary re-brand, studio and office equipment |
| South Burnett Today (South West Queensland Leader) | South West Queensland Leader launch |
| National Indigenous Times | First Nations Images Library |
| Newcastle Weekly | Newcastle Weekly website overhaul |
| Star News Group | Pilot project for hyperlocal e-newsletter service |
| North West Farmer publication and website | North West Farmer publication and website |
| Papers & Publications Pty Ltd | Launch of Fleurieu Newsmedia, a new newspaper fo the Fleurieu Peninsula in South Australia |
| Pro Bono Australia | Pro Bono News paid subscriber model |
| Region Group Pty Ltd | "MoJo" mobile journalism equipment – cameras, smart phones and remote reporting software |
| Central Queensland Media | Re-launch the Longreach Leader |
| Shepparton Newspapers Pty Ltd | Launch of a custom news app |
| TBW Today Pty Ltd | Re-launch the South Eastern Times |
| Australian Jewish News | News app, article archive and content partnerships  |
| The Daily Aus | Reader polling technology  |
| The Illawarra Flame | Merger of three print services into single digital/print edition |
| Shepparton Adviser | The Shepparton Adviser digital audience strategy |
| Wimmera Mallee News Pty Ltd | Virtual Editorial Portal with automatic article uploading |
Public Interest Journalism Fund
Organisation name
Project description

2SER

Re-launch of Razor's Edge, a Sydney-based current affairs show

Australian Associated Press

Journalists and photographers will be sent on a series of carefully planned, week-long news-gathering missions in remote locations. 

Blank Gold Coast

Boosting online output, social media and coverage of women

Burdekin Local News

Newsroom expansion with two part-time journalists

Cairns Local News Editorial

Funding a cadet journalist placement

Catherine Scott

Trafficking jam: a feature documentary and TV streaming series about the impact of anti-trafficking laws on sex workers around the world.

Coonabarabran Times: local people, local news

Hire a part-time Indigenous affairs reporter

Diamond Valley Enterprises

Part-time journalists for the High Country Herald

and the Western Downs Town and Country

Ethnic Broadcasting Association Queensland t/a Radio 4EB

Creation of radio, podcast and in-language explainers for non-English speaking audiences.

Pakenham Gazette

Family violence news project – a monthly liftout and web article series

First Nations Media Australia

Indigenous stringer journalist network

Harry Clarke – Country Caller

Expanding the Chinchilla-based news service into Toowoomba and the Darling Downs.

Ian Kenins

Small towns at the post-Covid crossroads and other long form projects

IndigenousX Public Interest Journalism Fund

Debunking video series aimed at mythbusting commonly-held misconceptions about Indigenous people.

John van Tiggelen

Various long-form journalism projects, including series of long-form reports including a detailed study of regional communities recovering from Covid-19 

Ninti Media

Kangaroo Island timber plantation controversy

Murray Bridge News

Telling the Murraylands' stories – issues-based reporting on poverty and the housing crisis

National Ethnic and Multicultural Broadcasters Council (NEMBC)

National Multilingual News Service

National Indigenous Times

National Indigenous News remote stringer journalist network

Navin Sam Regi

Royal Commission into Aged Care report

PRIMER

Hiring a violence against women reporter

Roundbox Media

Connecting Rural Communities – research and interview local farming groups and produce online and video content

Rural Review

Expanding news coverage to all of southern Queensland

Saltgrass Podcast

Develop a marketing and subscription plan to allow it to produce more content, particularly the impact of climate change on local communities 

Susanna Freymark

The expansion of hyperlocal digital service, IndyNR

Western Plains App

Combined app for several local newspapers and radio stations

The Express

Part-time hire of a cadet journalist

Truepenny Media

The Point News Site for reporting on environmental, social and governance issues

The Royal Institution of Australia

"Green Light" reporting series on how climate change is affecting four industry sectors

The Shepparton Adviser

Funding a part-time journalist

Caroline Winter

The Vet Reset: An industry as sick as a dog
About the Facebook Australian News Fund
The Facebook Australian News Fund is a three-year funding program open to Australian-based news organisations and independent journalists. Entrants must submit detailed project outlines, a budget indicating how the funds will be dispersed, financial information on their current operations, and milestones and the outcomes their project is aiming to achieve. The Walkley Foundation is managing the Fund independently of Meta and appointed two independent judging panels composed of industry experts to assess the applications and determine the successful recipients. 
The highly competitive, robust and arms-length program launched in October 2021 and the Foundation received 169 compliant entries when applications closed in late November. The judges examined the applications in December and met in late January to discuss the merits of the projects and determine how best to allocate the funding. 
About the judging process
Separate six-member judging panels were created to assess applications for the Newsroom Sustainability Fund and the Public Interest Journalism Fund. The judges are current or former media industry professionals with a diverse range of expertise. The Public Interest Journalism Initiative's chief executive Anna Draffin acted in an advisory capacity for the Public Interest Journalism Fund but did not participate in the judging. Judges declared any perceived or actual conflicts of interest, and left the room when the other judges discussed the relevant entry, as per the Walkley Foundation's official judging guidelines. 
Newsroom Sustainability Fund
Name 
Affiliation

Hal Crawford

Centre Media Transition, UTS

Rebecca Costello

Schwartz Media

Simon Crerar

*PS Media

Allen Williams

Independent – formerly Australian Community Media

Cathie Schnitzerling

ABC

Landline

David Fagan

Queensland University of Technology
Public Interest Journalism Fund
| | |
| --- | --- |
| Name | Affiliation |
| Luke Pearson | IndigenousX |
| Catherine Liddle | Independent – formerly First Nations Media and NITV |
| Monica Attard | Centre Media Transition, UTS |
| Anton Enus | SBS |
| Suzanne Smith | Freelance/ABC |
| Aparna Khopkar | Sydney Morning Herald |
[ENDS]