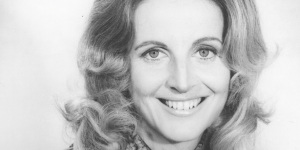 The Walkley Foundation pays tribute to influential and pioneering Australian journalist, Caroline Jones AM.
Jones, who won a Walkley Award in 2013 for Outstanding Contribution to Journalism in recognition of her illustrious 50 year-career, died last Friday, May 20 at the age of 84. In the days following her death, journalists and peers from across the country have delivered an outpouring of condolences and support, remembering Jones as a trailblazer who set the stage for a generation of young women eager to make their journalistic debuts.
Jones was the national co-patron of Women in Media, the not-for-profit organisation that grew into a national body in 2013 to support and empower women working across the media sector. Her inspiring rise through the media industry during the 1960s saw her become a role model for some of Australia's current and most acclaimed female reporters, producers and journalists.
In 1963, Jones joined ABC's current affairs program, This Day Tonight as its first female reporter. She later joined the network's Four Corners as a presenter before working across ABC radio. In 1996, Jones came out of retirement to host the ABC's acclaimed documentary series Australian Story until 2016.
Former ABC journalist, novelist and columnist for The Australian magazine, Nikki Gemmell, described Jones as a "beautiful and kind soul" who helped women find their path in the male-dominated newsrooms of 1960s.
"Caroline was an icon to a generation of schoolgirls who dreamed of a bigger, brighter, bolder life – including me," Gemmell said.
"She was so brave with her voice and her convictions; a beautiful, kind soul. Her courage and generosity were galvanising. She led the way and gave back to so many women over her long career, mentoring so many over the years. This is a huge loss for women in Australian media. Vale to a titan of Australian journalism."
Author, columnist and 2018 winner of the Walkley Foundation's Women's Leadership in Media Award, Jane Caro AM said Jones' legacy will continue to inspire women across the country.
"I admired Caroline from afar for as long as I can remember. As a young girl in the 60s and a teen in the 70s, seeing her quiet, dignified authority on the ABC night after night gave me hope," Caro said.
"Maybe there was a place for women eager to contribute to the public conversation, after all. When, a few years ago, I actually got to meet her I was in awe. Her genuine warmth and friendliness put me immediately at ease. She did not pull rank, everyone held equal interest for her. She was beautiful – her cheekbones were to die for – elegant and full of grace. She also had a wry humour and an appreciation for the absurd. Her feminism showed itself in the effort and energy she put into helping young women, including Indigenous women, getting a start in this still notoriously blokey industry. She was an inspiration."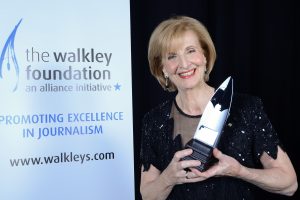 National co-patron of Women in Media and Walkley Foundation director Victoria Laurie described Jones a "pioneer" that helped reshaped the Australian media landscape for the better.
"Women in Media couldn't have had a better national ambassador and role model in Caroline. She pioneered the way for women entering news and current affairs reporting in Australia, and for half a century she excelled in her fiercely intelligent reporting, warm, incisive radio broadcasting style and latterly, her much-loved presenter role on ABC TV's Australian Story," Laurie said.
"For us at Women in Media, we loved watching how she encouraged every woman she met, taking an interest in their careers and offering wise advice. Caroline strongly supported several awards, for Indigenous reporters and for young rural and regional journalists.
"So many women have commented that she inspired them, often through personal messages she sent them. Caroline epitomised her favourite saying that 'There's a special place in heaven for women who help other women.' She will be terribly missed."
ABC journalist and 2016 Walkley Young Journalist of the Year award winner, Elly Bradfield shared on social media a personal message of her experience with Jones, highlighting the compassion the veteran reporter displayed for her fellow peers.
"Before my trip to Canberra I made a passing comment to Caroline about needing to find some warm clothes; I was heavily pregnant and not much fit at this point. This darling woman did not let that passing comment slide. She took it upon herself to PERSONALLY go out shopping for thermal tights and spencers (peak fashion) in my size and express post them to my house. She then got @emmamacdonaldinsta to drop some warm coats (all incredible) to my hotel.
"Ever since I was runner up for her award in 2017 she emailed regularly, always kept in touch with what was going on – both personally and professionally. Caroline never missed any of my stories and always let me know her thoughts about them. She also loved getting photos of the kids and knew all about them. Each and every time we spoke I could never quite believe she was THE Caroline Jones. I will miss her so much. Thanks for everything you've done for women and regional journalism. Rest In Peace."
Tributes: