2019 Walkley-winner with the ABC News Digital Team: Innovation
2019 Walkley Award-winner Mark Doman is a journalist with the ABC's Digital Story Innovations team, which produces high-quality visual, interactive and data-driven stories. Doman specialises in the use of open-source satellite data and imagery, combined with photography, video and on-the-ground reporting, to tell stories in novel ways about the world we live in from the unique perspective of space.
One of the three stories places images side by side to reveal the extent of secret mass detention facilities in China's Xinjiang province. Another uses graphic overlays to give context to raw images of recent fires in Queensland. The third uses high resolution satellite video to map bomb blasts and territory lost in the battle for the final pocket of territory held by Islamic State in northern Syria.
It's a body of work the judges described as, "an amazing portal and resource using satellite maps to show how things have changed. Great use of new techniques and technology; excellent visual storytelling. Together, these stories amount to an outstanding deployment of new technology that advances public knowledge with elegant innovation and memorable ease. 'Satellite storytelling' is exactly what the Innovation award is about."
We chatted with Mark about being inspired early on by the beautiful images from NASA's Earth Observatory site, the power of machine learning and AI, and why open source satellite imagery is the perfect marriage of his "love of tech and passion for bringing creativity to storytelling in news."
When did you first start using satellite imagery to explore international news stories?
I believe the first big international piece was the Xinjiang detention camps story, so that would have been around mid-2018. I had worked on quite a few domestic stories using this method of satellite imagery as the storytelling device, but they were focused on the environmental changes and climate change. The Xinjiang piece and the work mapping the battle of Baghouz in Syria were the first efforts to apply this model of storytelling focusing on human rights abuses and conflict.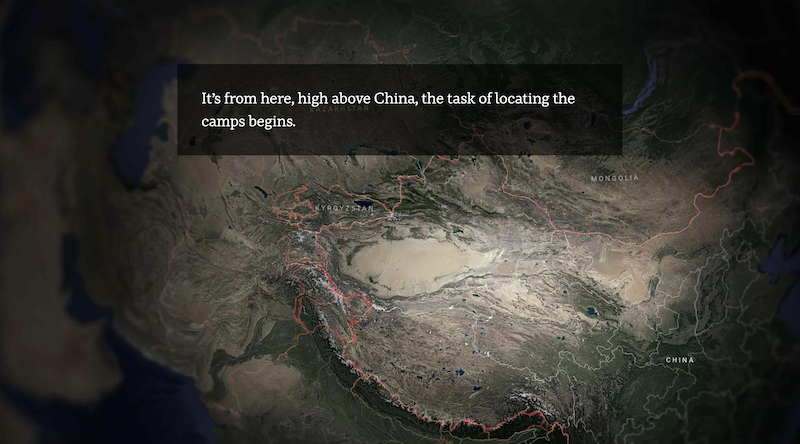 Did you come into this type of reporting and storytelling from a tech-loving background? Or did you discover the potential of tools like Google Earth once you'd started your career?
In the beginning NASA's Earth Observatory site was a huge source of inspiration for me. Every day, they process these amazing images of Earth, many of them look like beautiful works of art. So you can imagine that when I found out all this data was open source, I was hooked.
"It was just this perfect marriage of my love of tech and my passion for bringing creativity to storytelling in news. And its potential is seemingly endless."
After searching, processing and analysing this work for a few years now I'm regularly amazed with the new ways satellite technology can be used to monitor both our impact on the Earth and access places that may have previously been off limits to journalists. I think we have barely scratched the surface of their power to assist explanatory and investigative journalism.
For a story like "Satellite images expose China's vast network of secret re-education camps", that tracks satellite images of an area over many years to show it changing; what kind of time and resources go into pulling together a story like this? And do you have multiple potential stories that you'll be tracking simultaneously and watching for developments?
I don't remember the exact timeline but this piece I think was pulled together over a period of about a month, so that's everything from the boots on the ground reporting, to the processing of imagery, the design phase and then of course the important work of our developers to pull it all together. It's after working on stories like this that it makes me realise how lucky I am to work for an organisation that values and supports this kind of work.
And yes, I have so many things that I'm trying to keep track of at the same time. From changing glaciers in Antarctica to the impacts of severe drought back home, there's always plenty of things to keep track of. It's really taught me the power of keeping all the imagery well organised, so things aren't a complete mess when I finally get a chance to look at them.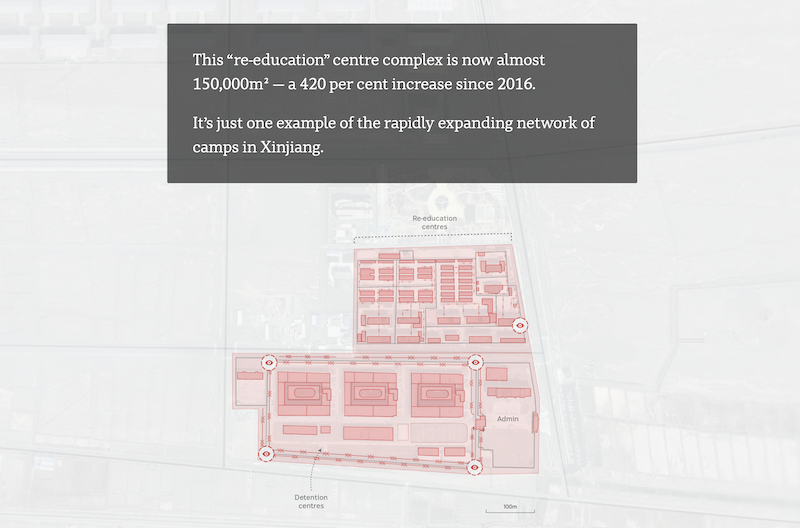 Satellite imagery, data from the internet of things and internet search data all offer up huge potential for research for public interest stories, but also trade off personal privacy; where do you stand on the pros and cons of collecting vast amounts of data about human movement and behaviour?
It's definitely a complex issue with so many different strains, so it's frankly one that I struggle with.
Technology has offered us so many new tools to research and investigate stories while at the same time it really has exposed just how much information is being captured about us all the time.
Just look at Xinjiang, it's a frightening example of just how much control a government can enforce on a population through the misuse of surveillance and communications data.
Working in the Digital Story Innovations team, what technological developments are you working with the enhance stories in the near future? Or what do you see bring at the forefront of research and storytelling in the near future?
I think some of the most exciting things happening at the moment are the use of AI to detect and analyse change in satellite data faster than we've ever been able to. We are bombarded with so much imagery every day from a variety of different sources that humans just can't keep up with it.
"The ability to use machine learning to identify change or specific characteristics in satellite imagery could be a game changer."
It's already being used to great effect by human rights groups who in collaboration with the tech companies have been monitoring conflict in remote areas. I think this model, applied to journalism, could be a powerful tool in the research and development of stories.
How did you first get into news and journalism?
I got my start working as a journalist with ABC in Port Augusta. It was such an amazing opportunity, it was a tiny one person office but I got to cover stories from such an interesting part and vast part of our country. In fact, the first story I did using satellite imagery was a piece on the filling of Kati Thanda-Lake Eyre and the changing landscape of central South Australia after rain, that stemmed from my time reporting in Port Augusta.
What are you most proud of about the stories you've told?
I think I'm most proud of the fact that we've been able to show our audience something they may never have known about otherwise. I think in the noisy cluttered world of news at the moment, it's a privilege to be able to tell stories that I think matter. Whether that's highlighting human rights abuses in China or using science and data to show just how long and ferocious our bushfire seasons have become.
What's your message to Australians about why quality journalism needs their support?
I always think about stories that wouldn't have been told without the support of quality journalism. The story of Khan Mohammed, the Afghan boy allegedly shot and left for dead by Australian special forces soldiers, would never have been told without the tenacious work of Dan Oakes and Sam Clark on "The Afghan Files".
"Who tells the story of systemic underpayment of 7-Eleven workers in Australia if not for Adele Ferguson?

Who exposes the widescale abuse and neglect of the elderly in Australian aged care facilities without Anne Connolly and the ABC investigations team?"
Without the support of quality, rigorous journalism these stories would never have been told.
What's the best thing about receiving this award?
It's nice to know this sort of work is valued and has a place in the field of journalism. It really has given me the encouragement to explore this space even more to see the possibilities it has to support quality journalism.
Read the award announcement here.
See all the 2019 Walkley winners here.
---
Mark Doman is a journalist with the ABC's Digital Story Innovations team, which produces high-quality visual, interactive and data-driven stories. Doman specialises in the use of open-source satellite data and imagery, combined with photography, video and on-the-ground reporting, to tell stories in novel ways about the world we live in from the unique perspective of space.