Walkley Young Australian Journalist of the Year, Media Diversity and more: Winners announced for 2019 Walkley Mid-Year celebration
June 26, 2019

SYDNEY — The Walkley Foundation tonight announced winners for this year's suite of awards, prizes, scholarships and opportunities that comprise the 2019 Walkley Mid-Year Celebration.
Peer-judged and selected on the basis of journalistic excellence, the Mid-Year Celebration includes a suite of awards, prizes and opportunities. These include the Walkley Young Australian Journalist of the Year Awards, Industrial Reporting, Freelancer of the Year, Women's Leadership in Media, the Our Watch Award, the inaugural Media Diversity Australia Award and Arts Journalism prizes; as well as the Jacoby-Walkley Scholarship with Nine, the Media Super scholarship with Seven, the William Buckland Foundation Fellowship with The Age and the Sean Dorney Grant for Pacific Journalism. The announcement took place at the Establishment Hotel in Sydney.
Oliver Gordon was named the 2019 Young Australian Journalist of the Year for his ABC Background Briefing story "The Black & White Hotel", an investigation into racial profiling at an Alice Springs Hotel which won the Longform Journalism category and was also a finalist for the Public Service Journalism category. Gordon wins a two-week trip to US newsrooms. The Walkley Judging Board, represented by Lenore Taylor, Claire Harvey, Stella Lauri and Heidi Murphy, found Gordon's entry stood out amongst a strong field.
"Oliver Gordon's entry comprised an excellent piece of investigative journalism, told well," said the judging panel. "He had the tenacity to pursue the story, and looked at the systemic issues behind it, with reporting that was balanced and fair throughout. Bringing the community members along with him, he won their trust, and had enormous impact."
The full list of winners is below.
---
Walkley Young Australian Journalist of the Year
Supported by the Jibb Foundation

Thanks to the support of the Jibb Foundation, Oliver will fly to the USA to undertake two weeks' worth of work experience with BuzzFeed, The New York Times, Columbia Journalism Review, Twitter and Quartz. All category winners will also receive mentoring from senior journalists, and their winning stories will be featured on Apple News.
All media: Shortform Journalism

Supported by ABC
All media: Longform Feature or Special

Supported by
The Sydney Morning Herald
&
The Age
All media: Coverage of Community & Regional Affairs

Supported by
Google News Initiative
All media: Visual Storytelling

Supported by Sky NEWS
All media: Public Service Journalism

Supported by News Corp Australia
All media: ​Student Journalist of the Year

Supported by Macleay College
---
Supported by ACTU, Ai Group, Australian Super, Unions NSW and UTS
With philanthropic support provided in memory of Emeritus Professor Alan Knight
---
Supported by Media Super
---
Supported by PwC
---
Supported by The Australian Department of Communications and the Arts
---
Supported by Media Diversity Australia, CoHealth and The National Ethnic and Multicultural Broadcasters' Council
---
Through the support of the Copyright Agency Cultural Fund, winners of both of these two awards will each receive $5000 in prize money.
All media: Arts Journalism Prize

S

upported by: Facebook
All media: Walkley-Pascall Prize for Arts Criticism

Supported by: Geraldine Pascall Foundation
---
Supported by: Anita Jacoby, Nine Network and AFTRS
Caroline Tung

, Monash University
---
Supported by: Media Super and Seven
Amy Clements

, The University of Melbourne
---
Supported by: The William Buckland Foundation and The Age
Rachael Houlihan

,

The Standard
---
Supported by: Harold Mitchell Foundation, Newcrest Mining, Stephen Howes & Clare Holberton, Bob & Helen Lyon, Pacific Island Living Magazine, TNC Pacific Consulting
---
#walkleys
Media queries: Clare Fletcher, clare.fletcher@walkleys.com |  +61 432 616 810
Awards questions: Lauren Dixon, lauren.dixon@walkleys.com | +61 413 212 890
---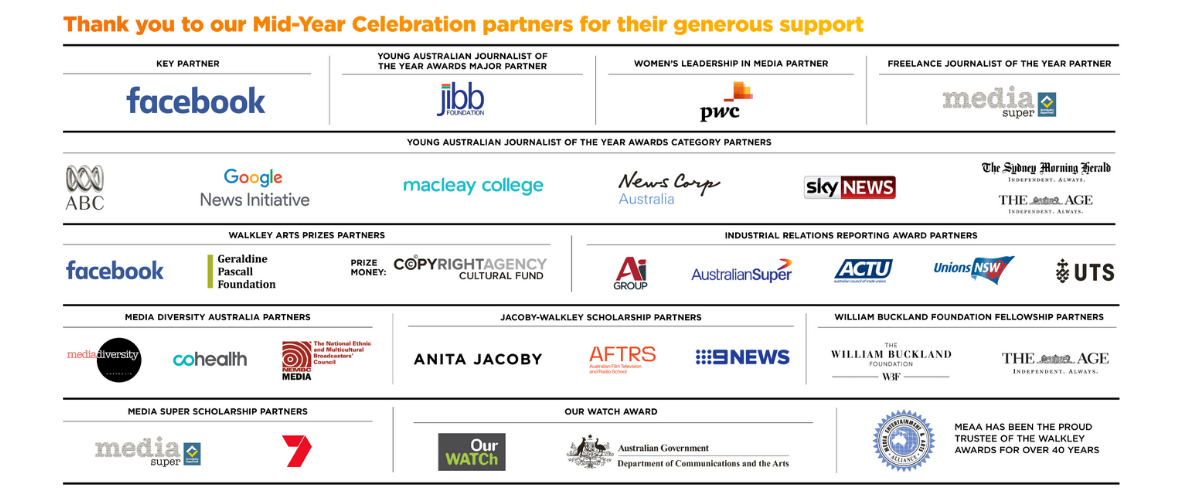 Thankyou to the judges:
Sarah Abo,

60 Minutes

, Nine

Sue Ahearn

Natalie Ahmat, NITV

Emma Alberici, ABC

Russell Anderson, NEMBC

Monica Attard, UTS

Michael Bachelard,

The Age

&

The Sydney Morning Herald

Eryk Bagshaw,

The Sydney Morning Herald

&

The Age

Kathy Bail, UNSW Press

Jess Blanch,

RUSSH Magazine

Kylie Boltin, SBS

Meredith Booth, freelance journalist

Phoebe Bowden,

Ten News First

Sally Bowrey,

Seven News Sydney

Alice Brennan, ABC

Jenna Cairney,

Townsville Bulletin

Laura Chalmers,

The Sunday Mail

Kelly Clappis, WIN Victoria

Angela Cox, Seven

Alex Cullen,

Sunday Night

, Seven

Sean Dorney

Patrick Durkin,

The Australian Financial Review

Celina Edmonds, ABC

Emma Field, ABC

Jana Frawley,

The Daily Telegraph

Jemima Garrett,

freelance journalist

Peggy Giakoumelos,

SBS World News

Michelle Griffin,

The Age

Claire Harvey,

The Sunday Telegraph

Angus Holland,

The Age

Dan Ilic, Downwind Media

Anita Jacoby

Dee Jefferson, ABC Arts

Rae Johnston,

Junkee

Deborah Jones, arts critic

Deb Jopson, freelance journalist

Misha Ketchell,

The Conversation

Tom Krause, freelance writer/TV producer

Stella Lauri, WIN Television

Monica Lepore, Seven

Hamish Macdonald, Ten Network

Lisa Martin,

Guardian Australia

Alice Matthews,

ABC

Craig McPherson, Seven

James Morrison,

The Australian

Jason Morrison, Seven

Heidi Murphy,

Neil Mitchell Morning Program

Alex Needs

,

Nine

Marina Neil,

Newcastle Herald

Sacha Payne, ABC

Lizzie Pearl,

Nine News Sydney

Jenna Price, The Sydney Morning Herald

Alex Rheeney,

Samoa Observer

Gina Rushton,

BuzzFeed Australia

Monique Schafter,

7:30

ABC TV

Carl Smith, ABC Science

Alexandra Spring,

Guardian Australia

Mandy Squires,

The Daily Telegraph

Lenore Taylor,

Guardian Australia

Tracy Vo,

Nine News Perth

Calla Wahlquist,

Guardian Australia

Jim Waley

Cath Webber, Women in Media