Why philanthropy is backing local journalism
15 September 2021 @ 10:00 am

-

11:30 am

AEST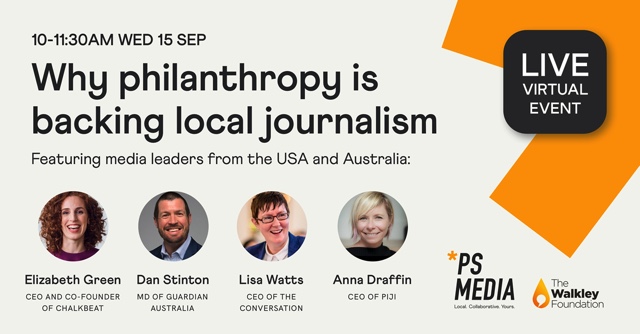 Why philanthropy is backing local journalism
An interactive virtual event discussing why well resourced public interest journalism is intrinsic to the health of communities, and explaining the key role philanthropy is playing funding publishers in Australia and the USA.
Date: Wednesday 15 September
Time: 10:00am – 11:30am
This event is FREE however spots are limited and registration is essential to secure your place.

The Walkley Foundation provides scholarships, fellowships, mentorships and training to support and encourage journalists of all backgrounds. If you would like to join us in supporting quality journalism and an equitable and inclusive media, please consider adding a donation to your event registration, or donating directly here.
Speakers:
Elizabeth Green is the CEO and co-founder of Chalkbeat, the nonprofit news organisation dedicated to improving educational equity through local, independent, high-impact journalism.
David Bornstein is a journalist and author who focuses on social innovation, and the co-founder of the Solutions Journalism Network. He co-authors the "Fixes" column in The New York Times. His books include "How to Change the World: Social Entrepreneurs and the Power of New Ideas" and "Social Entrepreneurship: What Everyone Needs to Know."
Dan Stinton is the managing director of Guardian Australia. Previously he was head of digital at Seven West Media, responsible for digital products and technology across Seven West Media's Western Australian business including The West Australian, Perth Now and 7 Perth. Before that he held senior roles at Yahoo7, the joint venture between global internet company Yahoo and Seven West Media, and as general manager of RTRFM, a Perth-based community radio station.
Lisa Watts is CEO and Executive Director of The Conversation Media Group and is responsible for funding and operations, and the IT and Product teams who serve the international group. Previously Lisa was CEO of ArtsHub, CEO of a search marketing firm, and GM online employment for Fairfax Digital. Lisa has been a Director of Vertical Networks Group and Chair of Midsumma Festival. Lisa is a Deloitte Outstanding 50 LGBTI Leader.
Anna Draffin is the CEO of the Public Interest Journalism Initiative. She is a strategically focused senior executive with over 15 years' experience in business strategy, management and positive change leadership within multi-stakeholder organisations, across the corporate, government, philanthropic and non-profit sectors.
Rebecca Gorman is a former ABC Radio journalist now running a beef cattle farm using Holistic Management regenerative agriculture methodologies. As part of the Australian Environmental Grantmakers Network (AEGN) she and husband John Sevior back a range of initiatives that support climate smart agriculture, farmer engagement and policy change. They have recently partnered with the Australian Associated Press with a donation to support a dedicated agriculture desk
Simon Crerar is co-founder of *PS Media, a local news startup. He spent the first 10 years of his journalism career working for The Times in London. Simon was most recently founding editor and then GM of BuzzFeed Australia. In 2020 he worked with five regional publishers on a digital audience, engagement and revenue growth project funded by Google News Initiative.
Host: Zoe Daniel is a three-time foreign correspondent and was the ABC bureau chief in Washington DC from 2015 to 2019. Zoe was the ABC's Southeast Asia correspondent, based in Bangkok, from 2010 to 2013, and the Africa correspondent from 2005 to 2007. She has covered politics, conflicts, natural disasters and all manner of news around the world. She is the author of Greetings from Trumpland, which explores how an unprecedented presidency changed everything. Her previous books include Storyteller, a foreign correspondent's memoir like no other, and Angel, a fictional account of the 2013 Philippines Typhoon Haiyan.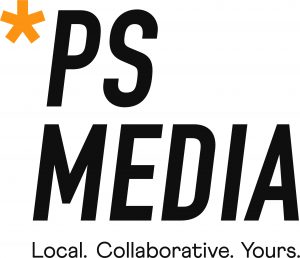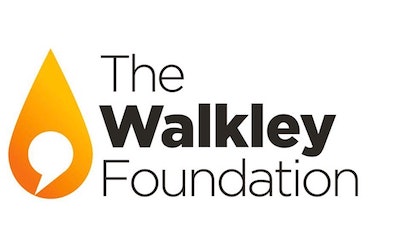 Related Events